Diversity - Equity - Inclusion
In Action
Diversity, Equity, and Inclusion in PSFA
Welcome one and all to the College of Professional Studies and Fine Arts. We strive to be a space where everyone is valued, included, and given the opportunity to thrive. PSFA is committed to integrating diversity, equity, and inclusion across the college. We hope that these highlights that demonstrate our commitment to diversity, equity, and inclusion across the College inspire. We also share links to relevant documents and information. Please reach out if you have any questions, concerns, updates, suggestions, or ideas to support our commitment.
Advocacy in Action
The Schools, Centers, and Institutes across PSFA foreground the vital work of diversity, equity, justice, and inclusion through panels and screenings, curriculum revision and engaged pedagogy, exhibitions and performances, and more. Please read on to learn about the ways we activate DEI goals.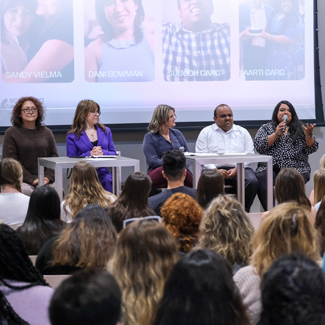 The School of Journalism and Media Studies (JMS) seeks to foster conversations around inclusion and representation in the media. The goal is to amplify the voices of traditionally marginalized communities, encourage participants to engage in respectful and thought-provoking conversations about race, class, sexuality, and social issues, and motivate allies to take action. To forward this goal, the Diversity, Equity, and Inclusion Committee in JMS hosts a Screening Circle each semester. Each one focuses on a different theme through the lens of a television series or film and cultivates a safe and inclusive space for participants to reflect, ask questions, and engage in tough conversations, empowering all to be catalysts for change. The organizers aim to dismantle harmful stereotypes that persist, in particular for students and the younger generations who will shape the future.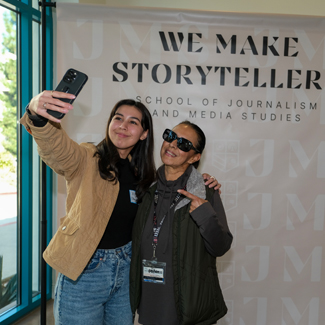 About the April 2022 screening featuring the hit show "Love on the Spectrum," ​​JMS student Annemarie Munoz shared, "We don't all get the opportunity to see ourselves reflected in the media we consume, but as future media professionals we have the opportunity to change that." Information on the Spring 2023 Screening
The School of Communication undertook a major review and revision of the undergraduate curriculum for two majors: Communication and Health Communication. The focus was to integrate issues of anti-racism and social justice into every course in both sets of curricula.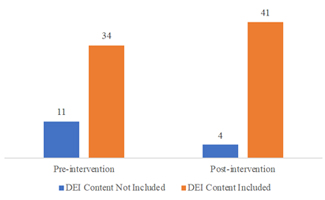 The report of this effort is currently under review to be published in the journal Communication Education and it has been presented at the Western States Communication Association annual convention. Pictured to the left are graphs that demonstrate the results of the School's comparative study of syllabus/course content before and after the curricular design intervention, as well as specific analyses of post-intervention syllabi. This initiative was funded by the CSU/Teagle Foundation Curriculum Design grant.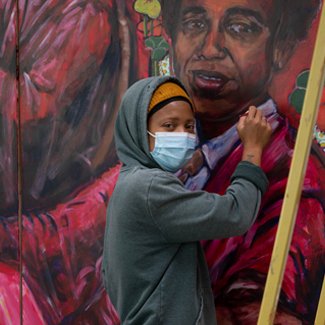 The Institute for the Arts Humanities and Social Justice and Arts Alive SDSU collaborated with the Division of Student Affairs and Campus Diversity to facilitate student-led murals focused on social justice across campus. This project resulted in six new murals painted by SDSU students and alumni. It includes one special mural painted in honor of the history of Black scholars, faculty, students, and leadership at SDSU. This mural was designed and created by alumni Sabrina Davidson and Avia Ramm.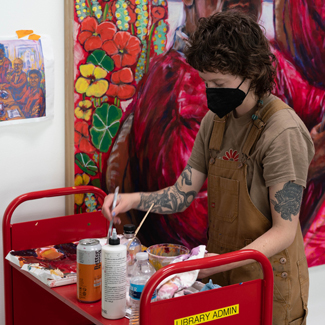 In addition, the collaborative team sponsored a contest inviting interdisciplinary teams of students to submit designs for murals based on a social issue. This resulted in four new student-led murals on the main SDSU campus and one on the SDSU Imperial Valley campus.

The
(Re)Frame Series Across the Disciplines
opens scholarly discussion on healing and transformational work across disciplines and fields. Hosted by
the
Institute for Dialogue and Social Justice
, in collaboration with the
Center for Inclusive Excellence
and the
Center for Transformative Justice
, for the past three academic years, the
series provides space for scholars, activists, students, and community leaders to share methods and possibilities for creating a more equitable and just future. The series serves as a sensemaking forum on topics including student success, nonviolent communication, prison reform and rehabilitation, and public speaking and advocacy. Each year focuses on a different issue and every month features a panel of scholars, students, and community partners from a different discipline. Click
here
for the description of the past 3 years of panels.