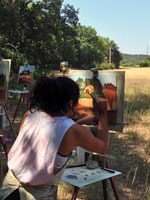 One of the most powerful educational, professional and personal experiences is study abroad. International Programs at the College of Professional Studies and Fine Arts is committed to promoting International opportunities that result in positive academic, personal and professional growth.

Our mission is to increase our number of students, faculty and staff who have international experience by creating a path and reducing barriers to the overseas experience. We provide outreach, service, and support to students, faculty and staff seeking international opportunities.
Want to Study Abroad? Watch this Video!


---

For More Information, Please Contact
Dr. Mei Zhong
Head, International Studies Minor
College of Professional Studies and Fine Arts
San Diego State University
5500 Campanile Drive
San Diego, CA 92182

Phone: 619-594-4633
Email: [email protected]
Office: AH-3104

Spring 2023 Office Hours
Advising Hours:
Tuesdays 1:00pm-4:00pm or by appointment via Zoom
*Please email [email protected] to set up a zoom meeting / adivising time.