In learning coaching sessions, PSFA majors & ROTC students develop:
Confidence in their ability to learn
Strategies for reading and writing
Note taking, studying, and test-taking strategies
Self-reflection skills and metacognitive abilities
Personalized organization skills
Meet Our Coaches!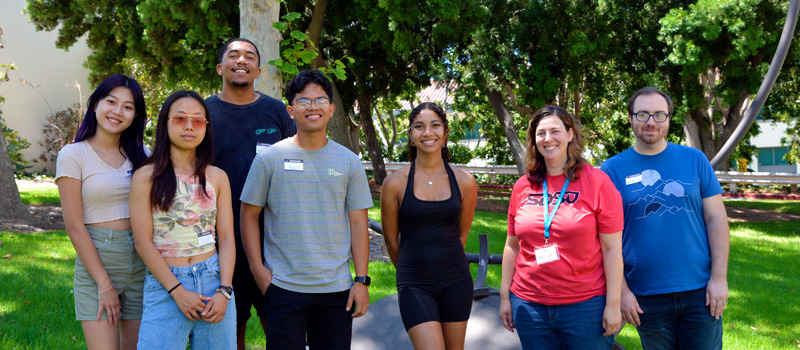 PARC Learning Coaching Policies
The Basics: Start Here
What happens in a learning coaching appointment:
Your learning coach will help you set short-term and long-term learning goals as a PSFA student and work with you to achieve your goals.
For example, if you want to be able to remember the works of art you will be tested on in your Art History course, your learning coach might introduce study strategies and provide time in a session for you to try them out, so you can find ones that will work best for you.
Who can make learning coaching appointments:
Learning coaching is only available to students whose majors are in the College of Professional Studies and Fine Arts and ROTC students at this time.
If you are unsure whether you qualify, or if you are searching for academic support for another college at SDSU, please email us at [email protected].
Where to go for appointments:
You may meet with your learning coach online via Zoom or in-person. You will get the Zoom link for virtual appointments when you make your appointment on WCOnline (see "Making Appointments" section of this document).
In-person appointments will usually be held in North PARC (PSFA 200) or South PARC (Adams-Humanities 4231).
Length of appointments:
Learning coaching sessions are one hour. This allows sufficient time for you to set goals, try out different approaches with the guidance of your learning coach, reflect on your learning, and make an action plan with next steps.
Number of participants:
Appointments are one student with one learning coach. The PARC also offers drop-in workshops if you enjoy learning with a group. In-person workshops will be held in South PARC (Adams-Humanities 4231). Zoom links for virtual workshops will be provided on the workshop flyer or announcement.
What to bring with you:
Please bring any materials you and your coach might need to look at together in order to achieve your goals. These might include:
Syllabi for courses you want to discuss
Assignments, including study guides and instructions for papers
Books, articles, or other texts you are reading
Special equipment (e.g. graphing calculator or software)
Graded assignments with your professors' feedback on them

You do not need to bring printed materials to your appointment, although it is great if you can. It is best to bring a computer or tablet instead of a smartphone if you have one, because a smartphone screen can be too small for two people to look at together.
How to request accommodations if you are registered with SASC:
If you are a student with a disability and believe you will need accommodations for learning coaching appointments, it is your responsibility to contact the Student Ability Success Center (SASC) at (619) 594-6473. To avoid any delay in the receipt of your accommodations, you should contact SASC as soon as possible. Please note that learning coaches cannot provide accommodations based upon disability until they have received an accommodation letter from Student Ability Success Center. Your cooperation is appreciated!
Privacy:
To protect the privacy of your student records, learning coaches do not discuss with faculty or staff which students participate in our programs without the expressed consent of the student.
We really like it when you choose to tell people--your friends, classmates, professors, SDSU staff, or anyone else--about your experiences in The PARC, though!
If your professor or program would like proof that you attended a learning coaching session, you may ask your learning coach to send a message to the appropriate SDSU faculty or staff member summarizing your session. We do not automatically contact faculty after each session, so please remember to ask your coach if you need this!
Maintaining a safe and welcoming learning environment for all in the PARC:
When interacting with other people, whether coming or going from individual sessions, studying in the PARC, etc., we ask that you always make others feel valued and that they belong.
There are many ways to do this. For example, you can learn the correctly pronounced, preferred names of others you meet and greet them by name; or, if you disagree with a fellow student in the PARC, you can ensure you are spending equal time listening and speaking in your conversation with them.
Behavior that makes others feel excluded or "that threatens or endangers the health or safety of any person within or related to the University community" (SDSU Standards for Student Conduct) will not be tolerated. Students engaging in such conduct will be asked to speak with the PSFA learning coach or assistant dean and their access to tutoring and the PARC and its activities might be restricted.

Making Appointments
How to make a learning coach appointment:
PSFA and ROTC students can make appointments through WCOnline.
Where appointments are held:
In North PARC (PSFA 200) or South PARC (Adams-Humanities 4231). Your appointment confirmation will specify in which location you will meet your coach.
Whether we offer drop-in sessions (without an appointment):
Individual coaching sessions are available by appointment only at this time; however, our group workshops are open to all students taking classes at SDSU. Check our website for workshop offerings this semester.
You are also welcome to study by yourself with a small group in the PARC.

How many appointments you can make per day and per week:
Students may make a maximum of one 60-minute learning coaching appointment per week at this time, because the PARC team is very small.
How far in advance you can schedule an appointment:
You can schedule an appointment as far into the future as the end of the semester.
How to cancel an appointment:
Appointments can be canceled through WCOnline.
You can cancel your appointment up to 12 hours before your appointment time (e.g. 1:00 am for a 1:00 pm appointment the next day).
What happens if you do not show up for your appointment or if you need to cancel less than 12 hours before the session is scheduled to begin:
If you miss an appointment, that is considered a no-show; if you have to cancel less than 12 hours before the session is scheduled to begin, that is considered a late cancellation.
If you have more than 2 late cancellations and/or no shows, a member of the PARC team will check-in with you to ensure all is well before you can continue making appointments.
If you are looking for private learning coaching or tutoring for a middle schooler, high schooler, or a friend who is not enrolled at SDSU, etc:
We do not provide private, fee-based learning coaching or tutoring, unfortunately. If you are looking for a private tutor for a K-12 student, we recommend you ask the student's school staff for resources.

Embedded Tutoring
In Fall 2022, the PARC is launching an embedded tutoring program pilot, in which PARC tutors partner with a faculty member to provide in-class and out-of-class support for students in specific sections of PSFA courses at our university. Embedded tutors attend class meetings and lead tutoring appointments for students in their section outside of class. Appointments consist of individual tutoring sessions and small group workshops. They may also work with other students seeking tutoring who are taking PSFA classes in their subject.
Faculty partners in the program form a community of practice with PSFA Assistant Dean Lanie Lockwood and PSFA Learning Coach Rebecca Tedesco for support and professional development.
The PARC's embedded tutoring pilot is funded by a CSU Equity in Action Grant ($20K) awarded in May 2022.
Hours of Operation
**The PARC will be closed the week of Thanksgiving**
Monday - Friday: 9 a.m. to 4 p.m.
Saturday and Sunday: Closed
North PARC


North PARC: PSFA 200
Sourth PARC


South PARC: Adams-Humanities 4231