INTERNATIONAL STUDIES MINOR
About the Program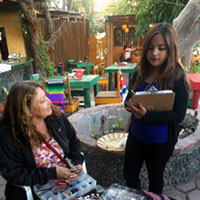 The PSFA International Studies Minor (ISM) is open to any major in the University, and is particularly valuable for any student seeking a career involving global awareness. The Minor seeks not only to provide an international experience for students but to deepen the meaning of students' experience by providing a process and context for critical awareness/ comparison, self-reflection, as well as the specific professional skills they will utilize in their future careers.
*The ISM consists of six courses (18 units), four of which (12 units) are required.
Core Courses (12 units) – These courses must be taken in sequence:
PSFA 350 International Studies (3) - Awareness of international surroundings and creation of global citizens in PSFA disciplines. Basic concepts of culture and self-awareness, dimensions of culture, theoretical perspectives, behavioral patterns, and applications in PSFA disciplines.
PSFA 501 Study Abroad I (3) - Intensive study and practical applications of PSFA-related intercultural issues in a selected international setting. Areas of study within PSFA disciplines.
PSFA 502 Study Abroad II (3) - Intensive study of global PSFA-related professional career issues in a selected international setting. Focus on careers in disciplines within the College of Professional Studies and Fine Arts.
PSFA 550 International Studies Capstone (3) - Problem-based approach through which PSFA students describe, analyze, compare and contrast the ways that the visited culture/society/ nation addresses a problem or issue relative to PSFA-related approaches taken in the US.


Electives - Take 6 units from among the following courses that have been identified as addressing international concerns:
* Other elective courses outside of PSFA and courses from abroad may be substituted with advisor permission.
RTM 100 Sustainable Development

JMS 210 Social Media in the Digital Age

JMS 250 Intersectional Representation in Media

MUSIC 345 World Music in Contemporary Life

ART 357 World Art in Contemporary Life

TFM 363 International Cinema

COMM 371 Intercultural Communication

DANCE 382 Dance in World Cultures

RTM 404 Cross-Cultural Perspectives of Tourism

JMS 450 Media and Culture

CJ 571 Organized Crime: Domestic and International Perspectives

JMS 574 International Advertising

PA 580 Comparative Public Administration
---
---

For More Information, Please Contact
Dr. Mei Zhong
Head, International Studies Minor
College of Professional Studies and Fine Arts
San Diego State University
5500 Campanile Drive
San Diego, CA 92182

Phone: 619-594-4633
Email: [email protected]
Office: AH-3104

Spring 2023 Office Hours
Advising Hours:
Tuesdays 1:00pm-4:00pm or by appointment via Zoom
*Please email [email protected] to set up a zoom meeting / adivising time.