Spring 2023 Screening Circle Presents Love on the Spectrum U.S., Thursday Mar. 16TH
Join the School of Journalism and Media Studies for an episode screening of the Netflix Docuseries, Love on the Spectrum with special appearances from U.S. cast members, Abbey Romeo, Dani Bowman & Subodh Garg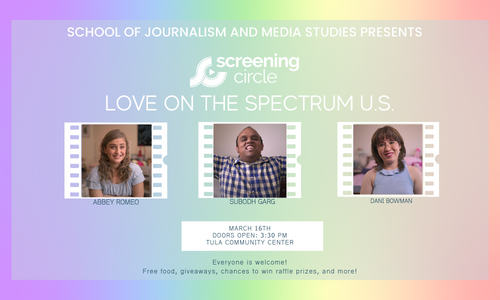 The School of Journalism and Media Studies presents the Spring 2023 Screening Circle on Thursday, March 16th, at 4:00 p.m. at SDSU's Tula Community Center.
The screening includes an episode from the Netflix Series "Love on the Spectrum U.S." This docu-series is about adults diagnosed with autism who tackle misconceptions by capturing their unique experiences and social interactions in their day-to-day lives.
The event will feature a Q&A panel with cast members from the show, Abbey Romeo (accompanied by her mother, Christine Romeo), Dani Bowman, and Subodh Garg (accompanied by his sister Aarti Garg). Local San Diego PR professional, Susan Clausen, will lead a casual discussion on the representation of disabilities in the media.
The School of Journalism and Media Studies Diversity, Equity, and Inclusion Committee hosts Screening Circle every semester. Each screening focuses on a different theme with a TV series or film focusing on representation in the media. Our goal is to empower students to understand their roles as storytellers. By fostering and engaging in tough conversations, we can create safe and inclusive spaces where we can all be catalysts for change.
The School of JMS seeks to foster conversations around inclusion and representation in the media. Our goal is that we can continue to amplify the voices of traditionally marginalized communities, encourage participants to engage in respectful and thought-provoking conversations about race, class, sexuality, and social issues, and motivate allies to take action. This is a unique opportunity that we're proud to have as a bi-annual event to show this kind of representation in mainstream media. It's imperative that we always push for positive change and we're so happy to feel the support from our community each semester with this event. We want to continue to dismantle harmful stereotypes and believe that this is especially important for the younger generations who are consuming media at such high volumes.
Admission into the Screening Circle is free, and all members of the community are invited to attend. Register for the JMS Spring 2023 Screening Circle here.