PSFA Research, Scholarly, and Creative Activities Newsletter
May 24, 2023
w e l c o m e m e s s a g e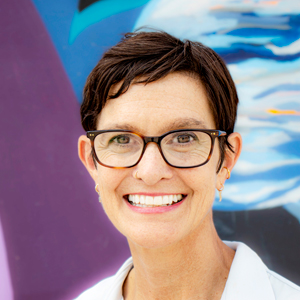 Dear Colleagues,
Welcome to the first edition of the PSFA Newsletter for Research, Scholarly, and Creative Activities! We hope you will enjoy celebrating some of the many exciting updates in the College and checking out upcoming opportunities for funding, collaboration, and partnerships. This newsletter is part of a broader initiative within the College and University to provide further support for research, scholarly, and creative activities for faculty. It will be released quarterly and provide a space for updates, announcements, and accomplishments. In this first newsletter, you will find highlights about faculty and student research, updates on collaborations and partnerships, center and institute news, related events, and some upcoming grant highlights. Thank you in advance for taking the time to read and please reach out to me with any comments, questions, or ideas for future editions of the PSFA RSCA newsletter!
Warmly,
Annie Buckley

Associate Dean of Faculty Advancement
College of Professional Studies and Fine Arts
---
PSFA DEAN'S AWARDS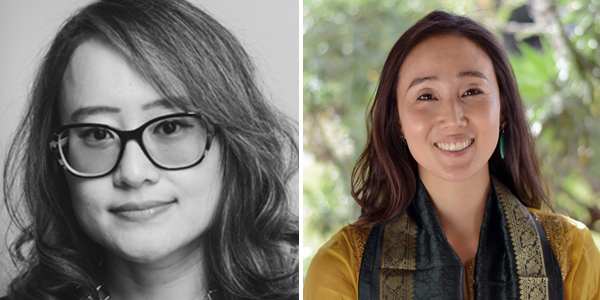 PSFA Dean's Awards for Research Scholarly and Creative Activities
As part of a new suite of awards from the PSFA Dean, two faculty were recognized for their achievements in research, scholarly, and creative activities. Congratulations to Dr. Yin Yu from the School of Art and Design and Dr. Chuyun Oh from the School of Music and Dance on being recipients of this new award for their excellence in RSCA! We thank interim Dean Heather Canary for creating these awards and for her strong and consistent support for faculty research, scholarly, and creative activities.

Read more about the Dean's Awards >>
---
HIGHLIGHTING FACULTY RESEARCH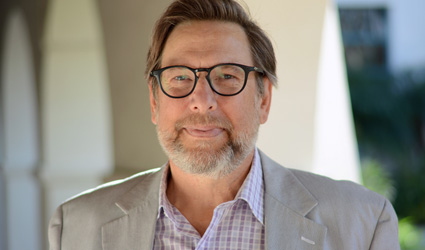 Highlighting Faculty Research: Dr. Bruce Appleyard
Dr. Bruce Appleyard, Associate Professor of City Planning in the School of Public Affairs, collaborated on an innovative proposal to further research and improve safety for pedestrians and bicyclists that was awarded a $10 million grant for the next 5 years from the U.S. Department of Transportation.

Alongside collaborators from the University of New Mexico, the University of California, Berkeley, the University of Wisconsin at Milwaukee, and the University of Tennessee, he will create the first-ever USDOT-funded University Transportation Center (UTC) dedicated solely to pedestrian and bicyclist safety.

Director of the School of Public Affairs, Rod Colvin, shared of the accomplishment, "This project continues a 50-year tradition we have in the School of Public Affairs of conducting applied research that will have tangible and measurable effects in communities. We are proud of Dr. Appleyard for continuing this tradition."

For more information, please see the article on SDSU News Center >>
---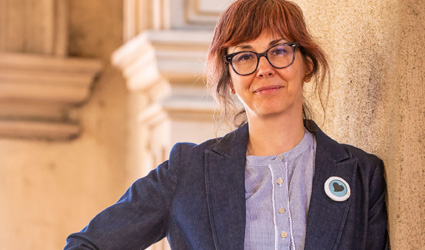 Highlighting Faculty Research: Arzu Ozkal
Arzu Ozkal, Associate Professor in the School of Art and Design and Chair of Arts Alive, is co-editor with Mila Waldeck of a new book, Cabaret Voltaire: Fluxus West, San Diego, and Southern California Mail Art, published by Hyperbole Books, an Imprint of San Diego State University Press, in March 2023.

Exploring the mail and correspondence art movement of the 1960s as an early form of social networking, the book is the first extensive review of zines on the topic created by San Diego State University (SDSU) alumna Ferrara Brain Pan (aka Steve Hitchcock.). Ozkal shares, "Discovering CabVolt No:1 at SDSU's Special Collections encouraged me to bring this book into being, and share the story behind the author of this short-lived yet highly significant publication."

Essays from international authors and scholars, including SDSU Professors Eric Smigel and William Nericcio, explore CabVol from theoretical and practice-based perspectives and situate the work within the broader history of the avant-garde.

---
SPOTLIGHT ON STUDENT RESEARCH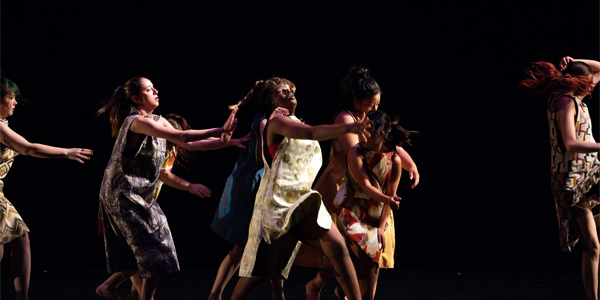 Dance Students Recognized
This Spring, SDSU Dance majors presented two pieces at the American College Dance Association (ACDA) Regional Conference. One of the dances, "Because You Move Me" (directed by Jess Humphrey, Associate Professor of Dance), was selected in an anonymous adjudication process as one of ten dances out of over fifty for the Gala Concert at the end of the conference. In an exciting surprise, it was then selected as one of four dances to represent the Baja Region at the ACDA National Conference.
This dance was created in collaboration with dance majors Emily Deskin, Vernice Ednilao, Julia Elbert, DJ Ellis, Kaili Jarmel, Mia Marie Navarro, Brianna Picazo, Chazz Schoettle, Makayla Sethi, Emily Sutherland, Maria Sulaiman, Savanna Torres with contributions from Wendy Ceja, Kamryn Cruise, Trinity Spann, Kya Thompson and Serena Tu. Later this month, they will perform alongside the top 1-3 pieces from 12 different ACDA regions across the country. The College is so proud of these students for their excellent work!
---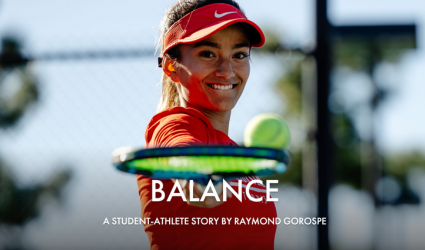 JMS Student Places in National Competition
Join us in congratulating School of Journalism and Media Studies student, Raymond Gorospe, in placing 14th in the nation in the Hearst Personality/Profile Competition. Gorospe's photographic essay features SDSU student Tamara Arnold and beautifully captures her journey to San Diego from Switzerland and the life of a student athlete balancing practice and competition with studies, finals, and friendship. Gorospe's recognition marks the first time an SDSU student placed in this prestigious competition from the Hearst Journalism Awards Program, which received 114 entries from 67 schools in 2022-23. Congratulations to Gorospe and to JMS lecturer Peggy Peattie, who led the photojournalism course in which Gorospe created his winning piece.
---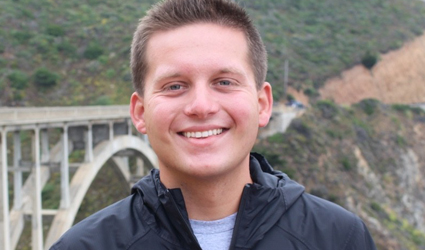 TTF Student Collaborates on Faculty Research
In an exciting example of faculty and student research collaboration, Chase Paparotti, graduate student in Theatre, Television, and Film, collaborated with faculty from two universities, Laura Coco, Assistant Professor in the School of Speech, Language, and Hearing Sciences at SDSU, and Samantha K. Robler, Assistant Professor at University of Arkansas for Medical Sciences, on a video series. The focus of the series is on improving awareness of teleaudiology, the remote delivery of hearing healthcare service, and how it can improve access to care. The films were recently presented at the American Academy of Audiology annual conference in Seattle, Washington and plans are in place to share them more widely with students, clinicians, and patients.
---
Collaborations and Partnerships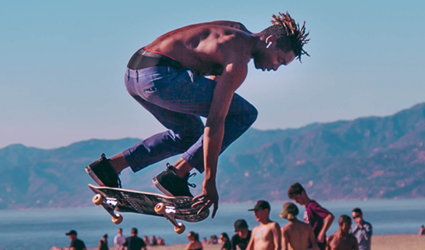 Transdisciplinary International Conference
In April, the SDSU Surf and Skate Studies Collaborative hosted the second international Stoke Conference, an exciting international conference on the culture, history and politics of surfing and skateboarding. PSFA faculty Dr. Jess Ponting, Associate Professor in the L. Robert Payne School of Hospitality, and Dr. Madison Swayne, Assistant Professor in the School of Public Affairs, are affiliate faculty in this collaborative. The transdisciplinary conference brings together scholars from across the humanities, social and natural sciences, cultural studies, ethnic studies, Indigenous studies, and sports studies in a comprehensive examination of surfing and skateboarding. Keynote speakers included Tony Hawk, an American professional skateboarder and pioneer of modern vertical skateboarding.
---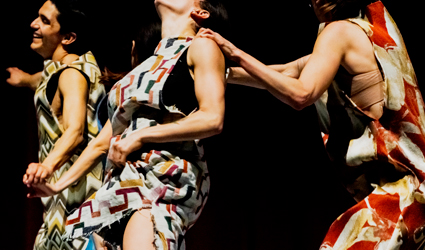 On the Horizon: Transborder Collaborations with PSFA and UABC
In March, a group of PSFA faculty joined Cristina Alfaro, Associate Vice President of International Affairs, Cristina Alfaro, and Annie Buckley, Associate Dean of Faculty Advancement, in a meeting with the President and leadership from the national university of Mexico, the Universidad Autónoma de Baja California (UABC), with multiple campuses across the region, to share their research and explore collaborations. Carlos Castro, Associate Professor of Art and Design, shared the popular course he has been leading in collaboration with UABC that brings students across the border to visit artist students and galleries in Tijuana. Jim Brown, lecturer in Art and Design, shared background on the international Friendship Park, while Joseph Alter, Professor from the School of Music and Dance, spoke about his dance, "Skin Hunger," which recently completed a tour in Poland, the U.S., and Mexico, and an upcoming performance as part of the Tijuana International Dance Festival: Bodies in Transit at CECUT. Jess Humphrey, Associate Professor of Dance, spoke about her newest project, Portal, a transborder dance experiment featuring seasoned dance artists from the U.S. and Mexico that premiered at SDSU and Centro Cultural Tijuana in January 2023. Faculty interested in being involved in future conversations are encouraged to reach out to Annie Buckley, Associate Dean of Faculty Advancement, or Vinod Sasidharan, Director of Transborder Faculty Engagement for SDSU.
---
Center and Institute News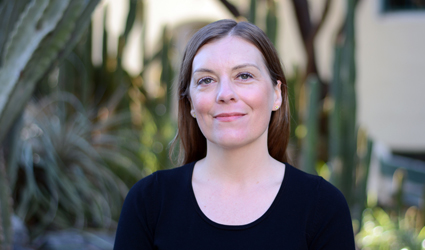 A New Director for the Center of Communication, Health, and the Public Good
The Center of Communication, Health, and the Public Good welcomes a new Director, Katrina Pariera. Pariera has served as Interim Director since joining SDSU in 2022 and is following the founding director, Wayne Beach. Interim Director of the School of Communication, Temple Northup, stated, "The Center of Communication, Health, and the Public Good is one of the crown jewels of the School of Communication and has a legacy of doing impactful, applied research. Under the leadership of Dr. Pariera, there will be new life and vision and it is exciting to see where it goes next." Pariera seeks to focus the Center's collective efforts on one key area each year, sharing that, "My vision as a leader is to steer everyone toward a common goal."
For more information, please see this PSFA Story. >>
---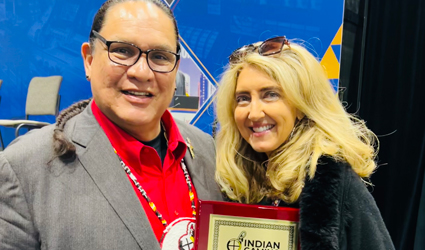 Chairman's Award to the Sycuan Institute on Tribal Gaming
PSFA wishes to congratulate Dr. Katherine Spilde who was awarded, along with the Sycuan Institute on Tribal Gaming and the Sycuan Band of the Kumeyaay Nation, The Chairman's Award from the Indian Gaming Association (IGA). The ceremony took place in March at the Indian Gaming Association (IGA) tradeshow and annual conference at San Diego Convention Center. This important award recognizes the partnership of the Sycuan Institute and Red Lake Nation College, along with Sycuan Tribe and Red Lake Nation and Red Lake Nation Gaming, in recognizing tribal sovereignty and economic development while aligning with two educational institutions—one in San Diego and one on the reservation.
For more information, please see this article in Tribal Government Gaming. >>
---
A New Institute Fosters Cross-University Collaboration
This semester, the new Institute for the Arts, Humanities and Social Justice launched its website along with a survey for stakeholders to help plan for the future. IAHSJ was founded in 2021 in the College of Professional Studies and Fine Arts in collaboration with the College of Arts and Letters. In May, IAHSJ hosted its second annual event, a student-led gathering organized by Research Assistant Mackenzie Moore, with a free screening of two films from the Africa World Documentary Film Festival and a meet & greet Dr. Niyi Coker, Director of festival and of the School of Theater, Film, and Television, and Mark Freeman, film director and Professor emeritus in TTF.
---
News and Events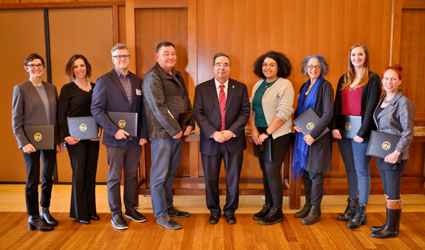 SDSU Inaugural Outstanding Scholars Include Two Faculty from PSFA
This spring, SDSU's Division of Research and Innovation launched a new suite of awards to recognize Outstanding achievements in scholarship and invited nominations in various categories from across the University. PSFA is proud to share that two faculty members from the College, both professors in the School of Art and Design, were recipients of these inaugural awards.
Professor Sondra Sherman received the first SDSU Artistic and Creativity Award, for her longtime practice and renown in the field of contemporary jewelry, with work in notable collections including the Los Angeles County Museum of Art, the Metropolitan Museum of Art, the Boston Museum of Fine Art, and the Smithsonian Institution.
Professor Annie Buckley received the new Public Impact Award for her pioneering work with Prison Arts Collective, expanding access to the transformative power of the arts to people experiencing and impacted by incarceration.

For more information, please see the SDSU News Story on the Awards >>
---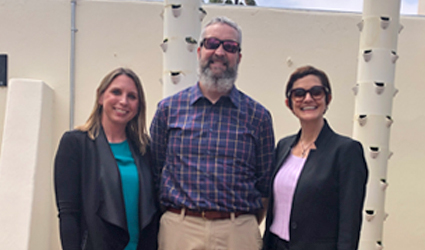 Grant Writing Workshop
In April 2023, PSFA hosted a Grant Writing Workshop with support from the Diversity Council. We welcomed 12 faculty members from across the College to hear tips and best practices and engage in a lively Q&A with host and co-facilitator Annie Buckley, Associate Dean of Faculty Advancement, co-facilitator Dr. Rachael Record, Associate Professor of Communication, and guest speaker Dr. John Crockett, Associate Vice President of Research Advancement for the Division of Research and Innovation. This event was sponsored by the Diversity Council to advance the goal of providing expanded mentoring and support to all faculty, with a focus on faculty from underrepresented minority groups, in their research development and quest for tenure.
---
Grants on the Horizon
Internal Grants
Have you identified a grant that you want to write, but need time to focus? Check out this exciting opportunity from the Division of Research and Innovation! SDSU Grants for Established RSCA Programs (Formerly Rapid Response)
---
External Grants
Are you practicing and/or researching arts as a healing tool? Are you engaged with or want to connect with the Veterans Center or military units of campus? This is for you! Creative Forces: NEA Military Healing Arts Network

For more resources on grant writing and research advancement, please visit this resource folder. If you have comments, ideas or suggestions for the newsletter, and/or if you have questions or want to discuss research advancement, please reach out to Annie Buckley, Associate Dean of Faculty Advancement [email protected].