Katrina Pariera Named New Director of the Center of Communication, Health, and the Public Good
Associate Professor in the School of Communication Katrina Pariera takes the reins of the innovative research lab.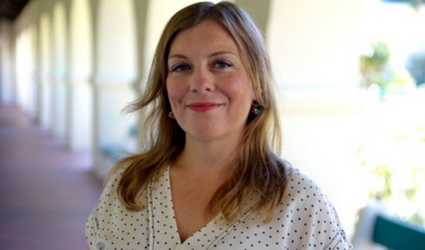 Katrina Pariera has been selected as the new Director of the Center of Communication, Health, and the Public Good by the former Director, Wayne Beach.
Pariera joined San Diego State University as an Associate Professor in the School of Communication in the Fall of 2022 and has worked behind the scenes as the interim director of the center. The following Spring she began serving as the official director.
The Center of Communication, Health, and the Public Good is an innovative hub that facilitates research, investigates the relationships between communication and health, creates educational resources, and develops sustainable programs to advance the public good.
"The center's had a great foundation…Dr. Beach was great at compiling an interdisciplinary group of people that are interested in and support the mission of the center," Pariera said. "That's something I really want to build on."
Along with the emphasis on bringing people together from various disciplines, she noted that she has also been impressed by how collaborative and supportive SDSU faculty have been, especially in the research environment. Pariera hopes to use the center to carry on that tradition and bring people together and collaborate and communicate.
To do this, she has begun meeting with faculty and staff to hear their thoughts on a new project idea she has for the center. She plans to choose one specific social problem per year to focus on researching and solving and has incorporated faculty by asking their opinions on what area they might want to choose.
Pariera is working on ideas for other projects but is also focusing on ways to raise awareness about the center, include more graduate students in the school, and bring researchers together to highlight the big picture of why they're a part of the center.
"My vision as a leader is to steer everyone toward a common goal," Pariera said.
Pariera was a communication faculty member and ran the communication masters program at George Washington University for eight years before she moved to San Diego to become an Aztec.
Her research at GWU and SDSU focused on difficult conversations in interpersonal and health contexts, and she has published work in Health Communication, Journal of Family Communication, Journal of Racial and Ethnic Health Disparities, and Journal of Family Theory and Review.
Dr. Pariera received her Ph.D. from the University of Southern California's Annenberg School for Communication, her M.A. in Communication, Culture, and Technology from Georgetown University, and her B.A. in Applied Linguistics from Portland State University where she was a Ronald E. McNair Scholar.