World Premiere Musical Postcard American Town Opens at SDSU
The SDSU School of Theatre, Television, and Film presents the world premiere of Postcard American Town, a musical by Lynne Shankel and Crystal Skillman, directed by Stephen Brotebeck. This fresh, new musical follows residents of the fictitious community of Westville as they awake to the gravity of cultural discrimination and the importance of social activism. Shankel is best known as the first woman to solely orchestrate a new musical on Broadway with the 2015 production of Allegiance.
Postcard American Town will be performed on the Don Powell stage Friday April, 29 to Thursday May, 5, 2022 and is part of SDSU's New Musical Initiative. Tickets are $17 for students and $20 for the general public and can be purchased at ttf.sdsu.edu.
"New stories are the lifeblood of musical theatre. So often nowadays, musicals are adapted from an original source material.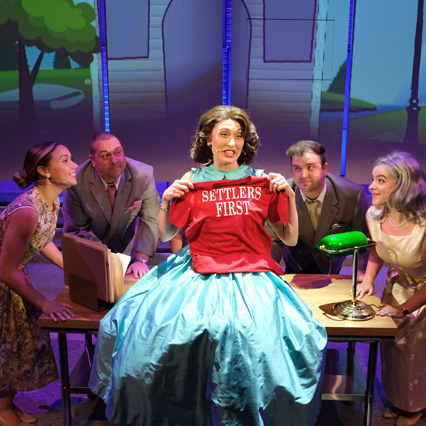 This story is not. It is completely original and relevant," said Director Stephen Brotebeck. "It has been an absolute dream to work with Lynne and Crystal on this piece. They are both wonderfully collaborative and have written a piece that really speaks to what we as a country are going through at this time."
Writers Shankel and Skillman began working closely with SDSU MFA Musical Theatre students in 2020 to create a dynamic book that is personal to many of the actors involved.
MFA Musical Theatre student Christopher Shin plays the principal role of activist Dylan Bao. Throughout the two-year project, Shin has worked closely with Postcard American Town writers to integrate his own experiences and emotions into his character.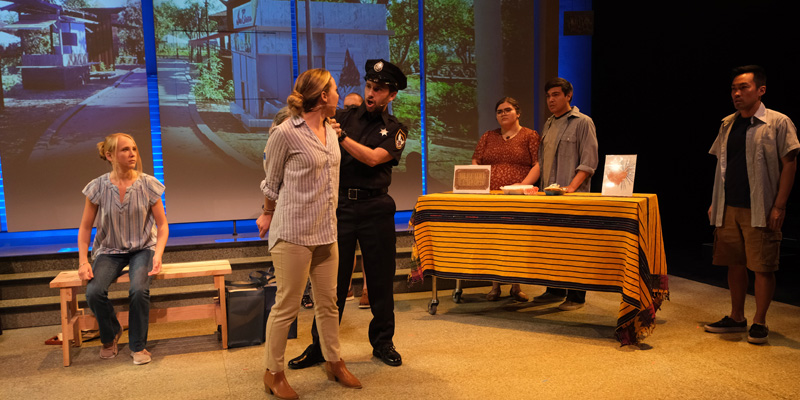 "For so much of my life, I've very rarely seen myself on a theatrical stage. I mean that from the standpoint of what I physically look like and my personal life experience. This show is both of those things for me. As a first generation Asian-American, I've grappled all my life with what it means to be American" shares Shin.
Freshman theatre student Audrey Deubig, playing Betty Treemount, shares insight on the show.
"This cast inspires me every day with their talent, courage, and vulnerability. I have learned so much by listening to and watching my castmates, both on and off stage. I know that audiences will be moved every night by their raw and authentic performances."
"Postcard American Town is a show about different perspectives. We need to be telling stories that continue to challenge ourselves and our communities, including the community here at SDSU," said Shin.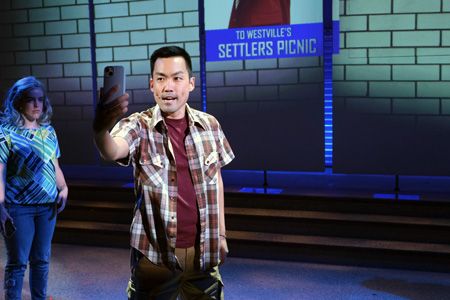 "We must continue to hold ourselves, our classmates, our teachers, and our leaders accountable for their actions."
For more information or tickets visit the SDSU School of Theatre, Television, and Film website.
SDSU COVID-19 protocols are required.

Arts Alive SDSU Panel Discussion:
A virtual panel discussion for Postcard American Town will take place Wednesday, April 27, at 10 am via Zoom, registration required. The panel will explore racial divisions and social activism in contemporary American culture.