The School of Art and Design unveils SDSU World Design Capital Headquarters
SDSU community invited to take part in live open house, presentation, and screen printing workshop Thurs, Sept. 22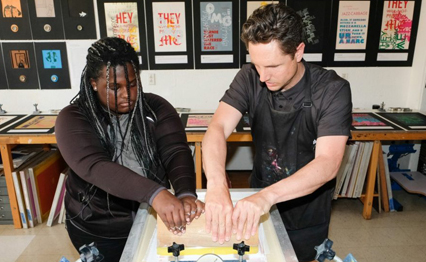 Celebrate the unveiling of the SDSU Headquarters for San Diego-Tijuana World Design Capital 2024, a two year program of active engagement and creative experimentation to celebrate the U.S.–Mexico border region as a global nexus for design innovation, culminating in 2024.
The community is invited to an open house meet-and-greet discussion on the evening of Sept. 22 from 6 to 8 p.m. in the courtyard of the School of Art and Design. A concurrent screen printing workshop will take place at the School. These events coincide with San Diego Design Week 2022, an annual initiative of the Mingei International Museum.
The open house discussion will introduce Art and Design lecturer James Brown's International Friendship Park project in collaboration with eight SDSU design students.
Guests are also invited to participate in a live screen printing workshop in Art North, Room 481.. Hosted by the School of Art and Design and instructed by Assistant Professor Scott Wyss, the hands-on workshop will cover the screen printing process from concept to creation.
"Students will learn how the screen printing process can alter the way you design and ultimately shape their thought process within the limitations of this medium. Assignments are oriented toward surface design problem solving covering various systems for design repetition," said Wyss.
Register for the World Design Week screen printing workshop here.