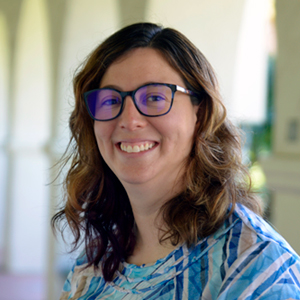 Rebecca Tedesco
Pronouns: She/Her
PSFA Learning Coach
College of Professional Studies and Fine Arts
Dean's Office
Main Campus
Email

Phone

Location

PSFA-223

Fax

619-594-6974
Bio
Rebecca has been a writing tutor for almost 15 years. She was tutor coordinator in Peer Connections at San José State from 2017-2019, where she received a 2018 CRLA Professional Development Award to continue developing the university's Tutor Supervisor Council.
Rebecca is currently a learning coach in the College of Professional Studies and Fine Arts at San Diego State University. Her passion, second only to her love of tutoring and academic support, is experiential learning. She completed a certificate in experiential education from Yeshiva University.
Rebecca also earned a B.A. in sociology from Brandeis University, an M.A. in English literature from UMass Boston, and a C.A.G.S. (post-Master's) in developmental education from Boston University. The joy of her life is her wife, Donna.
Areas of Specialization
Level 3 Master Tutor
College Reading & Learning Association (CRLA)
Certified Learning Center Professional - Level 3
National College Learning Center Association (NCLCA)