SDSU Celebrates The Grand Opening of the New Performing Arts District
New facilities ignite creative excellence and community engagement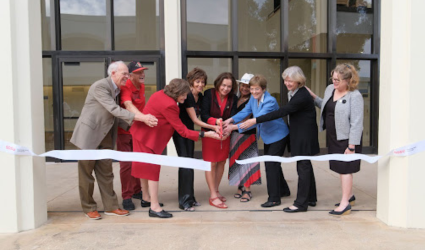 On Wednesday, Nov. 1, 2023, San Diego State University proudly unveiled its highly anticipated Performing Arts District celebrating artistic innovation and creative training. The event marked a historic moment for the university, bringing together donors, faculty, and guests from the community to witness the grand opening of this transformative hub for the arts.
College of Professional Studies of Fine Arts Dean Janis McKay set the tone for the day. "The opening of this beautiful, new Performing Arts District marks a substantial leap into the future for SDSU's ongoing dedication to nurturing artistic innovation and exploration."
Dean McKay emphasized the SDSU's role as a dominant force in regional training and innovation, uniting diverse fields and providing cutting-edge facilities for students and the community.
She then guided the audience through the highlights of the district's features, including the Julia R. Brown Family Park, SDSU Main Stage Theatre, Prebys Stage, Dean Joyce M. Gattas Amenities Pavilion, and the outdoor Ben and Nikki Clay Stage, and Bill and Evelyn Lamden Stage. Each space was meticulously designed to enhance the overall experience for artists and patrons.
Following Dean McKay's introduction, President Dr. Adela de la Torre spoke calling it a "milestone day for our university." She highlighted the significance of the Performing Arts District in providing state-of-the-art facilities for students in the School of Music and Dance and the School of Theater, Television, and Film.
Acknowledging the support from the community, President de la Torre invited several key figures to join in the ribbon-cutting ceremony including Doug Diamond, Jay Jeffcoat, Alice Diamond, Joyce Gattas, Adela de la Torre, Evelyn Lamden, Julia Brown, Marilyn Brown, and Janis McKay.
Kevin Delgado, director of the School of Music and Dance, led the ribbon-cutting ceremony, declaring the event a "momentous occasion" and "a realization of years of dedication and collaboration." The President then invited everyone to explore the new spaces during a self-guided tour and extended an invitation to the inaugural season of performances scheduled at the Performing Arts District.
Niyi Coker, director of the School of Theatre, Television and Film concluded the event by announcing the upcoming lineup of performances scheduled including the SDSU Jazz Ensembles, Tijuana's Dance Company Lux Boreal, "Mr. Burns, A Post Electric Play," and the World Music Concert Series.
The new SDSU Performing Arts District symbolizes SDSU's commitment to the arts and its integral role as a catalyst for growth and innovation in the region.