Outstanding Student: Kayla Aponte, School of Music and Dance
Kayla Aponte has been recognized as the outstanding music student in the School of Music and Dance.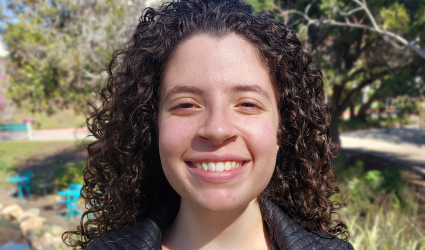 Kayla Aponte has been chosen as the outstanding music student of the School of Music. Aponte has spent her four years on campus soaking up her education and honing her musical skills.
Due to her hard work, Aponte was awarded the Jack Gard Music Ed Endowed Scholarship. This scholarship allowed her to get a fellowship at De Portola Middle School where she currently works with the students in band and orchestra, teaching them how to become better musicians.
"My fellowship has been one of the best overall learning experiences I've had in my time as an undergraduate," Aponte said. "The biggest benefit of this experience has been learning that I can trust myself absolutely in terms of teaching middle school band and orchestra, and what I still have to learn."
All that Aponte has learned in the School of Music and Dance has been crucial to her future career as a musician. She was thankful for the variety of classes she was able to take that introduced her to all aspects of the music production world. Aponte also thanked Dr. Eric Starr for all that he has done to help her become a talented musician and prepare her for life after graduation.
"Dr. Starr goes above and beyond in his position by making genuine connections with his students, and on multiple occasions, this connection and trust helped me to continue to practice and have faith in myself as not only but as a student and a leader," Aponte said.
Her education at SDSU, her professors, and her fellowship inspired Aponte to one day start her own private music studio or work in public schools as a band or orchestra director.