Outstanding Student: Athena Lazos, School of Public Administration
Athena Lazos has been chosen as the outstanding student of the School of Public Administration.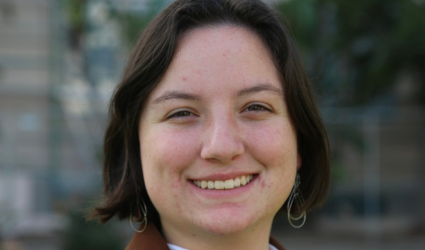 As a transfer student coming to SDSU in the fall of 2021, Lazos spent every moment she had on campus learning and growing as a leader, and dedicating her time to bettering the university.
In her first year at SDSU, Lazos became the Chair of the Campus Program Funding Committee under Associated Students with the goal to give student organizations funding to stimulate student participation in a diverse set of cultures and activities. She was also a voting member of the Financial Affairs Committee, the secretary for the Green Love Commission, the President of the Public Administration Club (an organization that she brought back to campus), and was a research assistant to Dr. Bruce Appleyard.
When Lazos started her path in higher education, she had no real idea of what she wanted to major in. She came to SDSU with the vague idea that she wanted to become a city manager somehow.
As time went on, Lazos found her passion for public administration and knew she wanted to become a chief of staff or a department head of either a state or county department.
Thanks to this realization, Lazos quickly jumped into action and began to work for the City of Santa Paula's Parks and Recreation Department, the County of Ventura's Information Technology Services Department, and the County of San Diego Clerk of the Board of Supervisors over her time in higher education.
"As a 17-year-old entering into school, I felt I had the world in my hands, but I had no way to know how to navigate it," Lazos said. "I am glad to have enjoyed the academics and can finally see a path for myself in this field. I feel like I now know how to navigate the small world in my hands."
Lazos continuously pushed herself to find her path in life and gave everything she had to find it.
For those incoming freshmen who are unsure of their future, Lazos has these words of wisdom:
"Broaden your horizons and be open to new things. The four years you have here at SDSU are a time to broaden your interests, find your path, and make lifetime memories. It is also a time to academically involve yourself in your future. Use this time to grow as a student, as a friend, and most importantly, for yourself. It may sound cliche, but these four years are really over in a blink of an eye."