Opera Theatre at SDSU presents L'amant Anynome
Often neglected chamber opera is the only existing composition by Black composer Joseph Bologne, Chevalier de Saint-Georges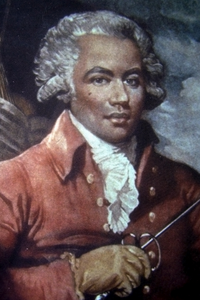 Opening Friday, January 27th SDSU Opera Theatre presents L'amant Anynome, by François-Georges Fouques Deshaye and Joseph Bologne, Chevalier de Saint-Georges. The director is Alan Hicks.
The only extant opera composed by Joseph Bologne, "Chevalier de Saint-Georges" (ca. 1739-1799), L'Amant Anonyme is based on a play by Stéphanie Félicité de Genlis (1746-1830) with a libretto by François-Georges Fouques Deshayes (1733-1825).
Often referred to as "the Black Mozart," Bologne was a virtuoso violinist, composer, conductor, and accomplished swordsman and soldier. He was known to have influenced Mozart, and L'Amant Anonyme is firmly rooted in the French classical tradition.
Genlis was the first female tutor to the French Royal family. The play and libretto center around the love one friend feels for another and his elaborate plans to indirectly win her affection.
The romantic classic premiered in 1780 and will be sung in French with new English dialogue.
The SDSU Opera Theatre works in conjunction with the Masters Voice Program in the School of Music and Dance, under the direction of Alan E. Hicks.
Performances take place in Smith Recital Hall and details are listed below.
Fri. January 27 at 7pm
Sat. January 28 at 7pm
Sun. January 29 at 2pm
Tickets are currently available for $15 General and $10 for students and military.
About the director
Stage director Alan E. Hicks has spent the past two decades in professional opera and theatre. Turning his attention to direction following stints as a professional singer and teacher, his work has been described as "powerful and deeply moving," "imaginatively directed," "absolutely brilliant," "gorgeous," and "real magic."
About the School of Music and Dance
We are the School of Music and Dance that provides specialized instruction, and career development opportunities for students by creating a dynamic artistic environment based on the unique strengths and knowledge of our accomplished faculty. We emphasize high-quality performance experiences for students, professional engagement, and applied practical training in music and dance. Each student's career aspirations are advanced under the supervision of a supportive and skilled faculty.