2023 Tour of Joseph Alter's "Skin Hunger" includes two performances at SDSU
The evening-length work is based in research on the subject of the quality and nature of touch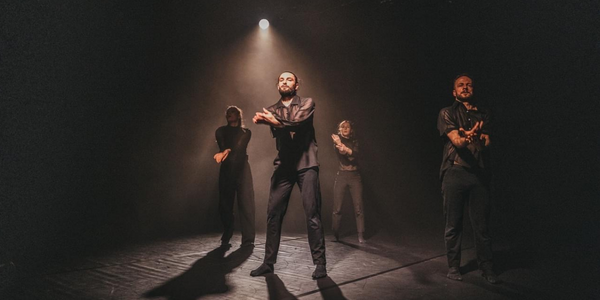 "Skin Hunger", choreographed by School of Music and Dance Professor Joseph Alter, comes to San Diego State University. The dance performance will visit San Diego as part of the 2023 tour, including Poland, New York, and Tijuana.

Performances are scheduled for April 7 and 8, 2023 at 8:00 PM on the SDSU Mainstage Theatre. Tickets are available at no cost, however, reservations are required.
Alter shares the inspiration behind the piece, "Skin Hunger."

"During the pandemic, I was commissioned to create an evening length choreographic work in Wrocław, Poland. As the nature and quality of touch, the act of touching, and how it is mediated socially is incredibly interesting to me it became an entry point into what I wanted to investigate choreographically," said Alter. "I began doing research in journals and publications regarding the subject of touch and came across a term that psychologists call "Skin Hunger."

Touch causes the secretion of hormones: oxytocin (the so-called "love hormone"), serotonin and dopamine ("happiness neurotransmitters"), reduces stress, eliminates the feeling of social exclusion, calms the heart rate and blood pressure, provides a sense of security, comfort, pleasure. "SKIN HUNGER" - "hunger for touch" - is a term used by psychotherapists, defining the result of long-term lack of physical contact, leading to a loss of health: weakening of the immune system, sleep disorders, frustration, anxiety and depression.
"Skin Hunger" premiered in August 2021 as a part of the repertory of Wroclaw's Polish Theater, and has been significant to Alter's career ever since.
Alter speaks on its importance and meaning, on a personal level. "Every opportunity to create, to engage my curiosity with people who are generous, open, and skilled means a great deal to me: the process reveals so much about myself and others and also offers us a chance to continue our practices and test our ideas in front of other people," said Alter. "It is a process of uncovering, discarding, and always beginning again."

As a professor, Alter hopes to inspire students to "fall in love with your subject, and become deeply curious about what interests you about the work. Get in the studio and practice curiosity, practice "letting go" of your habits regarding movement and choreographic structure," said Alter.
About the School of Music and Dance:
We are the School of Music and Dance that provides specialized instruction, career development opportunities for students by creating a dynamic artistic environment based on the unique strengths and knowledge of our accomplished faculty. We emphasize high quality performance experiences for students, professional engagement and applied practical training in music and dance. Each student's career aspirations are advanced under the supervision of a supportive and skilled faculty.