SDSU hosts Bay Area artist Rachel Phillips' first San Diego Exhibition
"Holding Time, Tracing Light" runs through Dec. 7 at the University Gallery
The San Diego State University School of Art and Design presents Holding Time, Tracing Light, the artwork of San Francisco Bay Area artist Rachel Phillips in her first San Diego exhibition.
Organized with collaboration from SDSU Special Collections and University Archives (SCUA) the exhibition includes objects from the Homer and Betty Peabody Magic Lantern Collection.
This multisensory exhibition takes visitors on a journey from the 1600s to today with one-of-a-kind objects and artworks depicting imagined narratives of people and places inspired by the artist's own archive of collected snapshots and cabinet cards.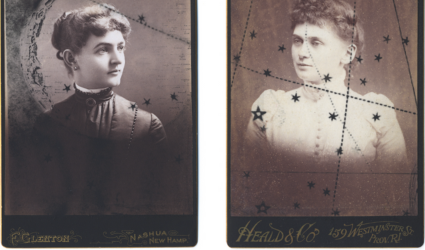 "In 2021, one of her artist's books was acquired by Special Collections and University Archives in the library," said Chantel Paul, SDSU galleries and exhibitions coordinator. "That opened up the possibility of doing an exhibition of Rachel's work in conjunction with Special Collections in the library because they have a particular collection that is very complementary to one of Rachel's bodies of work."
This exhibition is strongly influenced by the Homer and Betty Peabody Magic Lantern Collection, which contains forty-two magic lanterns, approximately five thousand glass slides, as well as material related to the Peabody's membership in the Magic Lantern societies of the United States, Canada, and Great Britain, and their collecting activities and interests.
Amanda Lanthorne, assistant head of SCUA and university archivist, believes that "displaying objects from the Peabody Magic Lantern Collection alongside Rachel's art really helps to provide historical context for it."
"I was thrilled to spend a week as an artist in residence in the archive at Special Collections viewing and scanning some of the hundreds of glass slides held in the Peabody Collection," Phillips said. "I have learned so much history while also finding creative inspiration."
"Those [slides] became part of a new video piece that she's displaying in the exhibition," Paul said. "It's being displayed in an oversized, theater facade. That facade was created through a couple of trips to San Diego State in the fabrication lab at the School of Art and Design."
Phillips described that facade as "the largest and most ambitious piece I have ever made."
The exhibition transports visitors through photography's evolution, beginning in the 1830s. Kodak's innovative design in the early 1900s brought photography to the everyday person, which Phillips believes is eerily similar to a revolution she sees in modern society.
"At that time, it was like the largest influx of images ever being made at one time," she said. "And today with social media, we're in that influx again. It's really in overdrive. Our society is really image-based at this point. The show actually makes people stop and slow down a little bit, it's the antithesis of the fast-paced image environment that we live in today."
Phillips has also amassed a collection of old vernacular photographs, snapshots of everyday life. "She takes those and then uses those as a basis," said Paul. "She reinterprets them, and she might add elements that don't exist in the original vernacular photograph.
"Some of the things that they're seeing are likely going to be new to a lot of people, especially to this younger generation of students," Paul adds.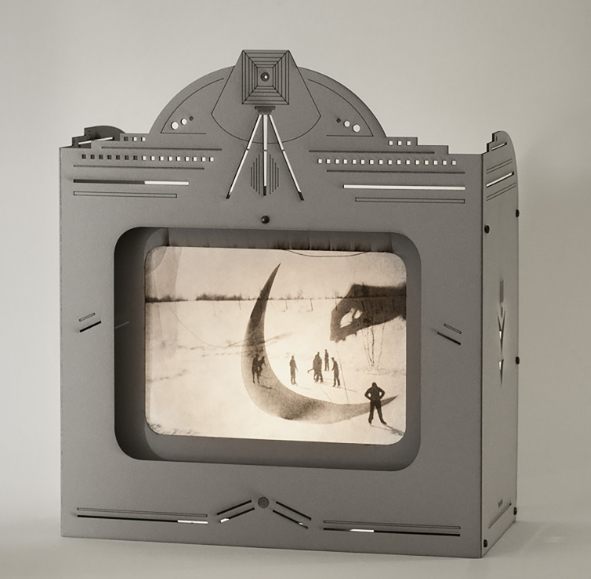 Students have greatly benefited from this project as well. "Speaking with students and doing some artists' talks and demos in book arts classes made me excited to think about the work these student artists will produce in the future," Phillips said.
"Having the opportunity to access and appreciate different facets of the school, while also being afforded such a large gallery space to share my work with the SDSU community is a huge honor," Phillips said. "As a multi-disciplinary artist, I've really been made to feel at home wearing my amateur historian, sculpture, photography, design, and book arts hats."
Holding Time, Tracing Light runs in the University Art Gallery, Tuesdays through Thursdays from 12 p.m. to 4 p.m., and by appointment, from Oct. 10 through Dec. 7, 2023. More details on the exhibition can be found here.