Hospitality and Tourism Management Student Profile: Samantha Barlow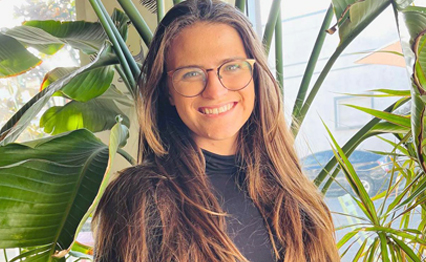 What is your hometown:
San Diego

Major and year in school:
Recreation Administration - Outdoor Resource Management
How did you decide on SDSU?
SDSU is one of the few universities that offer recreation and tourism programs so I really wanted to get into the program once I had transferred.
What's your favorite part about your field/major?
The travel experiences presented by the student-run organizations and the encouragement from professors and faculty staff members to expand our experiences through unique internships and work experiences.
What does it take to be successful in your major?
The ability to thrive in a program that places a student's future career as the main objective. All of our classes are designed to encourage networking, learning skills, experiencing new activities, and producing simulated business proposals. You should also have a love for adventure, travel, tourism, and recreation!
What do you hope to do in the future?
I would love to work in the tourism industry producing gap year programs for students to experience. I really enjoyed my personal gap year and I believe it is an essential part of a person's growth to becoming an individual adult who cares and understands the world around them.
Any faculty to shout out and why?
Yes, Corinne Youngholm! Our RTM Upper Division advisor and Student Experience Advisor is the sweetest person you will ever meet. She is truly dedicated to helping her students achieve all of their dreams and is a truly fantastic cheerleader for all of us.
Favorite place to eat on campus, what do you get?
That would have to be Eureka. Their Hoppy Hour is amazing and it is a blast to be there during an Aztecs game.
Favorite place to visit in San Diego?
I love visiting La Jolla Cove; there is a cute restaurant called the Goldfish Point Cafe, which serves goldfish crackers with all of their sandwiches. You can also take a tour with a number of local bike and kayak shops and actually paddle into the caves near the La Jolla Cove which is an amazing experience.