Assistant Professor Rati Kumar joins School of Communication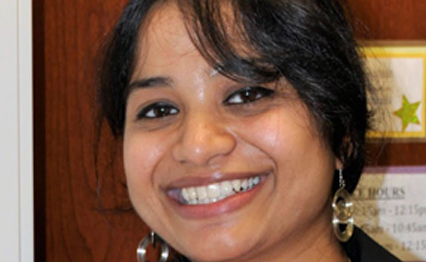 Dr. Kumar is a critical health communication scholar with a focus on health inequities and culturally situated health interventions. Her work draws on the strand of "health in displacement," conceptualizing displacement both as spatial displacement induced by voluntary and forced migratory processes, as well as a meta-level systemic displacement of disenfranchised communities. Her research focuses on centering the cultural knowledge of marginalized communities within mainstream health spaces as agents of structural and policy change.
Dr. Kumar's recent scholarship focuses on refugees and migrant-workers, and in communities and families affected by mass incarceration. Drawing on her ethos as a former student-athlete and law school graduate, she is passionate about action-oriented, community-based, and policy focused research. She currently serves on the Editorial Board of the Journal of Applied Communication Research and is the lead editor for a Frontiers in Health Communication Research Collection, while serving as ad hoc reviewer for other journals in the discipline. She has also published in flagship journals such as Health Communication and Qualitative Health Research among others, in addition to book chapters and white papers on issues of minority health. She has extensive teaching experience in the areas of Health, Intercultural, Conflict and Strategic Communication, taking a social justice centric approach to engaging students with theoretical and methodological constructs.