Associate Professor Chuyun Oh explores the impact of K-pop dance on social media and transnational pop culture in new book
Ethnographic study of K-pop dance and its fandom traces the evolution from the 1980s to the 2020s' social media dance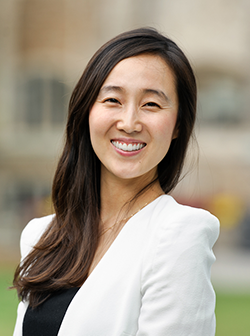 Associate Professor of Dance Chuyn Oh's new book, "K-pop Dance: Fandoming Yourself on Social Media" explores the unique relationship between K-pop dance and social media, examining how that relationship impacts global pop culture and the art of dance performance.

Oh based her book on five years of research including ethnographic fieldwork, interviews, choreography, and participation-observation with 40 amateur and professional K-pop dancers in New York, California and Seoul.

The book traces the evolution of K-pop dance from the 1980s to the 2020s' social media dance, and explains its distinctive feature called 'gestural point choreography' - front-driven, two-dimensional, decorative, and charming movements of the upper body and face. It also explores K-pop cover dance as a form of intercultural performance, suggesting that, by imitating and idolizing K-pop dance, fans are eventually 'fandoming' themselves and their bodies.

"I think what makes K-pop dance unique is the unprecedented scale of K-pop dance fandom, which is the second part of the book," said Oh. "Unlike a painting displayed on a museum wall, dance cannot survive without people who keep dancing it, imitating, and disseminating it."
The book details how the K-pop dance model of online participation makes room for dancers of all experience levels to establish careers performing on the new global stage: the smartphone screen. Social media is a vehicle for dancers across the globe to "fandom" themselves through the K-pop dance genre. Oh elaborates on the online influence of K-pop.
"Today, anyone can be a TikTok star without an education from an accredited university. The book will guide dancers on how they better prepare for their positions filled with new possibilities in the future and what they can get from this enormous, democratic platform waiting for dancers. Dancers can better learn and imagine their future, not just as dancers but also as entrepreneurs, global dance influencers, and activists through the trajectory of K-pop dance,"
"K-pop Dance; Fandoming Yourself on Social Media" is available online today. SDSU students can further study K-pop dance through Oh's new class, K-pop Dance Theory, coming to The School of Music and Dance in the 2023-2024 academic year.