Arts Alive SDSU discussion features "Disability Perspectives in Contemporary Art"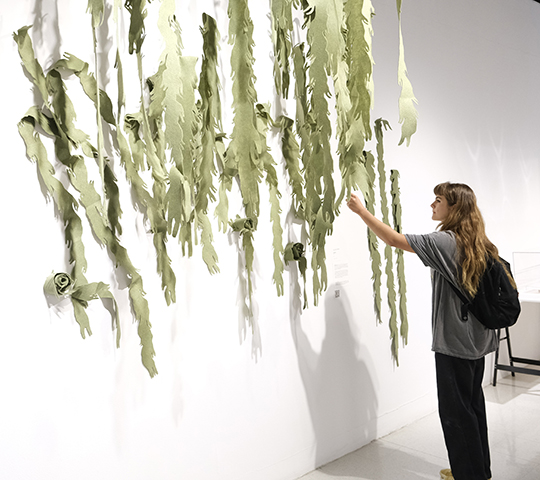 Arts Alive SDSU's second panel discussion of the Fall 2022 Discovery Series will feature "Disability Perspectives in Contemporary Art," and include a panel of contemporary disabled artists who are contributing to the disability justice movement in the U.S. The panel will also comment on differing conceptions of disability across cultures, with a specific focus on the state of disability politics in Mexico and India.
The panel discussion will take place on Thursday, November 10th from 2:00 – 3:15 p.m. at Donald P. Shiley Bioscience Center, Gold Auditorium. RSVP is requested.
The objective of the Discovery Series is to explore important cultural issues through the lens of the arts, finding common ground through conversation across disciplines. Events like "Disability Perspective in Contemporary Art" showcase that commitment to interdisciplinary study by inviting panelists with a variety of unique perspectives to campus.
Dr. Yetta Howard (Department of English and Comparative Literature) will moderate, and panelists will include Script/Rescript exhibition curator Amanda Cachia (School of Art and Design) and artists Ana García Jácome and Bhavna Mehta.

Script/Rescript Exhibition
The School of Art and Design exhibition Script/Rescript opened in the University Art Gallery in Oct. 2022 and will run through Dec. 8, 2022. The exhibition features the work of ten contemporary disabled artists who use historical and contemporary medicalizing scripts of their own bodies to colorfully reinterpret—or "rescript"—images and icons attributed to conditions of disability.
Amanda Cachia, a lecturer for the SDSU School of Art + Design, curated Script/Rescript in conjunction with Art 591: Gallery Exhibition Design. The exhibition features artwork by Panteha Abareshi, Jillian Crochet, Sugandha Gupta, Ana García Jácome, Bhavna Mehta, Dominic Quagliozzi, Katherine Sherwood, Akiko Surai, Sunaura Taylor, and Chun-Shan (Sandie) Yi.

Script/Rescript will be at the University Art Gallery until December 8.
Hours: Tuesday – Thursday from 12:00 – 4:00 p.m. and by appointment.
Holiday Closures – November 24, 2022
The exhibition is free and open to the public.