Ziggy Stardust & Me to Debut on Brand New Prebys Stage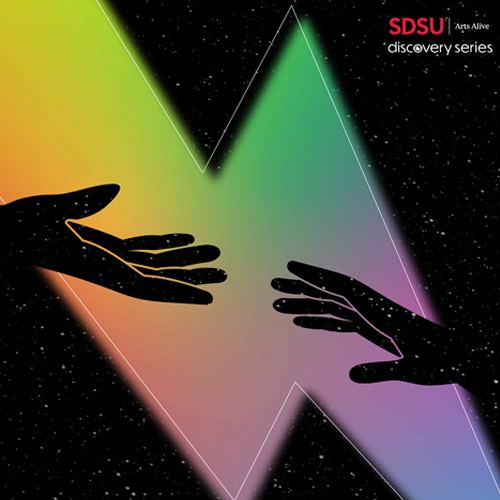 San Diego State University is set to produce Ziggy, Stardust, and Me for the first show of the 2023-24 theatre season. The original musical will also be the first to ever be performed in SDSU's new Prebys Stage.
The piece features a Bowie-inspired cosmic rock score and is based on the original, best-selling novel by James Cameron. According to Danny Holmes, a junior musical theatre major cast as Jonathan, one of the show's lead roles, audiences will follow "three main best friends, Harry Potter-style."
The story follows 16-year-old Web, who isn't expecting to find anything good at his new school after fleeing his past on the Pine Ridge Reservation. Certainly, he's not expecting to connect with Jonathan, the spacey Ziggy Stardust-obsessed teen he gets paired with for a school project. As the two grow closer, Web grapples with his anger at an unjust world and Jonathan struggles with his own demons, believing that his sexuality needs to be "fixed" with conversion therapy. Together, both boys must try to end the wars inside themselves, and find a way forward through love in a tumultuous world that surrounds them.
Throughout rehearsals, Holmes has found particular joy in "building chemistry with my fellow actors, my two friends who portray Jonathan's comrades in the play. Scenes where we're all together in that safe, communal space are my favorites. I can't wait to continue working with them," he said.
Holmes also feels that producing this show today is essential."There's a lot of really progressive, heavy topics that are very relevant today," Holmes said. "This is set in 1973 Missouri, but we're seeing similar things here in San Diego in 2023. It will always be a relevant show, no matter when it's produced."
Director and producer Dani Bedau shared a similar sentiment: "School districts across the country are banning books and plays with queer content and attempting to dictate which version of 'history' is taught in classrooms. Making art like Ziggy, Stardust and Me is vital, now more than ever."
However, the show is not solely a social commentary. "It's also funky and fun," said Holmes. "There's some very dramatic elements, but it's teenagers being teenagers and falling in love."
Ziggy, Stardust, and Me will premiere Saturday, Sept. 30 at 7:30 p.m. at the Prebys Stage in SDSU's Performing Arts District. The cast will perform seven times before closing on Sunday, Oct. 8. Tickets are $20 for the general public, $17 for students, and available through the online box office at the School of Theatre, Television, and Film. For more information visit theatre.sdsu.edu.