"Where Ya At?": Josh Suchon's Podcast Highlights JMS Alumni
New podcast celebrates the work of SDSU alumni working in various communications fields inspiring students to achieve their goals.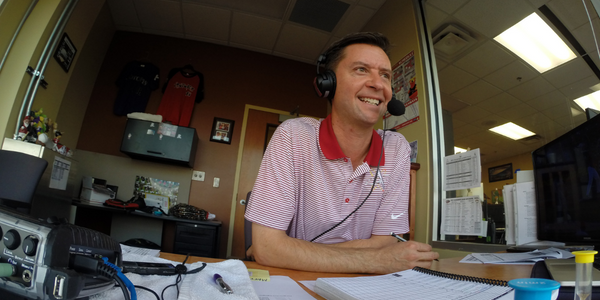 A new podcast is the brainchild of San Diego State University Journalism and Media Studies alumnus Josh Suchon. The aptly named show "Where Ya At?" celebrates the work of SDSU alumni working in various communications fields and its purpose is to inspire current students to achieve their career goals.
Suchon, a class of '96 graduate, majored in Journalism with an emphasis in Radio-TV and wanted to give back to the University. Suchon is proud of his time at SDSU and jumped at the opportunity to return to his roots and get involved.

Suchon was inspired to reconnect with SDSU and wanted to showcase the work of alumni like himself.

"I want to brag about all the awesome things that my fellow alums are doing in the business. We may not have the reputation of other Journalism departments, but it's time to change that. We are everywhere," said Suchon. "That's why the title is, "Where Ya At?" so we can learn where all our amazing alums are making us proud."

The podcast debuted on January 13, 2023, by highlighting the current Director of the School of Journalism and Media Studies, Temple Northup.

Suchon shares his advice for current students who want to start a podcast of their own.

"First, have realistic goals about your audience. Podcasts are now an oversaturated market. It's hard to compete against celebrities and podcasts that have a natural, huge audience. Use the podcast as a learning tool for yourself. Second, be consistent with how often you post new episodes. Whatever audience you build needs to know when you post. To make that easier, have 2-4 episodes recorded before you post the first," shares Suchon.

"Third, team up with a friend to build rapport and experience. It's easier to stay consistent when you're not always chasing guests. Plus it's just more fun to talk with a buddy."

Suchon is currently the play-by-play announcer for the Albuquerque Isotopes, the Triple-A affiliate of the Colorado Rockies. He has dreamed of broadcasting baseball for as long as he can remember, and he loves his job.

Suchon works on the podcast in dedication to a friend, "The podcast is dedicated to my late friend Greg Block. We met at The Daily Aztec and remained lifelong friends. Among his many jobs, Greg worked at SDSU for eight years in the communications department. I miss him dearly and I know he'd absolutely love this podcast," said Suchon.

"Where Ya At?" is available to listen to now on Spotify and Apple Podcasts.