TFM's 'THIN AIR' Initiative Empowers Teens to Address Mental Health
SDSU Filmmakers and Therapists Unite to Create Empowering Stop-Motion Animation "THIN AIR."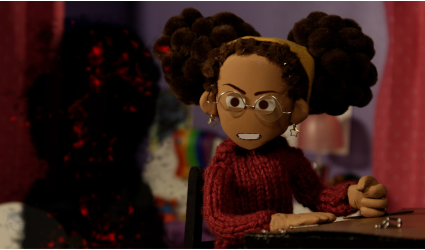 Photo from "Thin Air."
San Diego State University's Television, Film and New Media program (TFM) has embarked on a pioneering project, "THIN AIR," aiming to address the mental health challenges teenagers face in a post-COVID-19 world. This collaborative effort led by Associate Producer Abigail Segal and TFM Assistant Professor Mary Posatko, brought together a team of filmmakers with therapists from Didi Hirsch Mental Health Services' Transitional Age Youth Program.
Amid the backdrop of the COVID-19 pandemic and its profound impact on teenage mental health, this project sought to use filmmaking as a means of healing and inspiration. In six minutes, this stop-motion animation explores themes of grief and the importance of embracing all facets of oneself to move forward.
Segal, a film production major with a background in acting and visual arts, began as an intern and production assistant, contributing to various administrative tasks and script coverage. "Mental health awareness is vital, and I looked forward to combining my interest in filmmaking and my interest in creating work to start important conversations and help break the stigma," she said.
The project enabled fifteen teenagers from the Transitional Age Youth Program in Glendale, many of whom had never considered themselves filmmakers, to engage in character development, screenwriting, and voice acting through weekly in-person workshops led by industry professionals.
Mary Posatko, SDSU TFM Assistant Professor, offered insights into the process. "Collaboration is one of the most challenging and rewarding aspects of filmmaking, and the process of putting yourself out there creatively then having a group critique, adjust, and sometimes not use your ideas was an ongoing learning process," she said.
The teens created characters, wrote scripts, learned the art of stop-motion animation, and voiced the film's central characters. Accomplished industry professionals, including animator Chance Davis, MPSE-nominated David V. Butler, voice actor Scott Whyte, MPSE-winning Jay Jennings, and musical artist X.Ari, joined the team to lend their talents.
The impact of the project on the mental health and well-being of the participating teenagers was profound," Posatko said. "Seeing these young people forge a bond with the group and show up week after week, digging into the creative work and finding their voice, was a joy and a privilege."
The film was screened on October 6, 2023, for the teens, their therapists, and families at the Didi Hirsch campus in Glendale, highlighting the power of art in facilitating communication and empowering teenagers to tell their stories.
"THIN AIR" is now making its way through various film festivals, hoping to reach a wide audience and spark crucial conversations about mental health challenges teens face after COVID-19.
The success of "THIN AIR" has empowered the participating teens to use their voices and paved the way for future projects. "As this is an annual program, we hope to convene again next summer and create an entirely new project. Stay tuned!" said Posatko.