Joseph Alter Brings His International Piece "Skin Hunger II" to SDSU
SDSU School of Music and Dance hosts a powerful dance performance on the Human Connection performed by Lux Boreal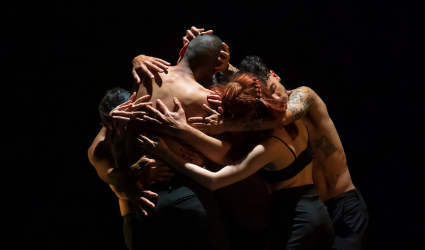 Courtesy of Joseph Alter
San Diego State University's School of Music and Dance presents "Skin Hunger II," choreographed and directed by Joseph Alter. This piece had its international premiere last year and will come to campus by special arrangement on November 17 and 18, 2023. It will be performed by Tijuana's Companie de Danza, Lux Boreal.
"Skin Hunger II" serves as a creative laboratory that explores the human need for touch and the
broader human condition. In a world altered by the aftermath of the pandemic, marked by prevailing isolation, distancing, and disconnection, it prompts us to consider alternative paths forward. The performance's meaning is open-ended, designed to evoke emotions rather than provide a rigid narrative.
"The performance is an active investigation of this phenomenon, aiming to initiate discussions, evoke emotions, and provoke action," Alter said.
The journey of "Skin Hunger" began in Wroclaw, Poland where its original counterpart premiered in August of 2021. The captivating performance drew attention for its unique concept, and its companion piece, "Skin Hunger II," made its international debut at the Centro Estatal De La Artes (CEART) in Tijuana, Mexico, in March 2023.
"While I have created numerous works abroad, it's vital for our students, faculty, and the community to experience original works performed here," said Alter.
"Skin Hunger II" has graced stages at CEART and the Centro Cultural Tijuana (CECUT) theaters in Tijuana, Mexico, and the Festival Lila Lopez in San Luis Potosi, Mexico. In addition to the performance scheduled at SDSU in the new Prebys Theatre, the piece will also appear in Ensenada, and Tecate, Mexico.
Dorota Seńków, in a review in Theater Journal, captured the essence of the performance, stating, "The desire to touch is fundamental to human existence; it defines our nature. Through the contact of our skin with external stimuli, we and our consciousness are born."
"Skin Hunger II" runs Friday and Saturday, Nov. 17 and 18, 2023 at 7:30 PM in the new Prebys Theatre at SDSU. Tickets run $10 - $30 and are available through the SDSU Performing Arts District Box Office.