SDSU Theatre presents "Bloodletting" combining the supernatural with the all-too-real
The School of Theater, Television, and Film production brings Filipino culture to the stage and will scare you with its humanity.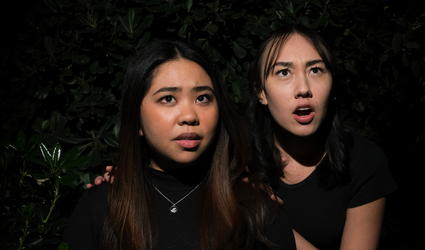 The SDSU School of Theatre, Television, and Film presents Boni B. Alvarez's "Bloodletting" on the SDSU Mainstage Friday, Feb. 17 through Sun. Feb. 24, 2023. The play is a mixture of drama, horror, and comedy with roots in Filipino culture and will be directed by Randy Reinholz.
This story of family and the supernatural takes place in the Philippines. Siblings Farrah and Bosley Legazpi travel to the Motherland to take care of some family affairs after their father's passing. Along the way, the two are confronted with family secrets and unsettling realizations and are forced to face their own feelings and traumas.
Reinholz is pleased to bring a play informed by Filipino culture to SDSU.
"It's fun for me to shepherd this because I have a lifetime of work in new plays and culturally specific work," Reinholz said. "I'm not the authority here, I'm like everybody else, a visitor to this culture."
Reinholz worked with people knowledgeable of Filipino culture to ensure that the production is as authentic and accurate as possible. He also spoke with playwright Alvarez to ensure that "Bloodletting" is relevant and accessible to all audiences.
Filipino exchange student and teaching associate Dey Ilagan, who plays sister Farrah, shares her insights on the significance of "Bloodletting."
"It provides a commentary on how bad we can become, as human beings, to the people closest to us," Ilagan said. "It's a very self-reflective play. It's quite intimate; it's emotional and it has a lot of very heavy topics...it's going to be a really impactful show, even if you're not Filipino."
"Bloodletting" will be performed on the SDSU Mainstage Friday, Feb. 17 through Sunday, Feb. 24. Performances are Thursday, Friday, and Saturday at 7:30 p.m., and Sunday at 2:00 p.m. Tickets are $20 general admission, and $17 for students and are available on the School of Theatre, Television, and Film website.