SDSU awarded University Transportation Center from the U.S. Department of Transportation
Bruce Appleyard is now SDSU's associate director of the newly formed Center for Pedestrian and Bicyclist Safety, a place for research that will make streets safer, more liveable, and more equitable.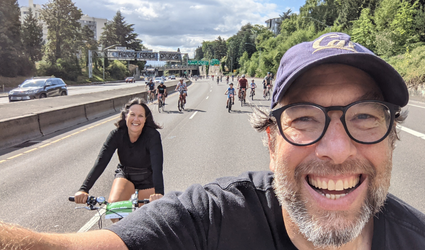 As driver fatalities have been decreasing, pedestrian and bicyclist fatalities have been growing at an alarming rate to about 20% of all fatalities.
To take on this challenge, the San Diego State University $10 million Center for Pedestrian and Bicyclist Safety (CPBS) University Transportation Center (UTC) is a place for faculty and students in the School of Public Affairs (SPA), The College of Professional Studies and Fine Arts (PSFA), and SDSU to conduct research that will make our streets safer, more livable and more equitable. This is the first UTC in the U.S. that is focused specifically on pedestrians and bicyclists, and the first to have a home in SPA and PSFA.
This research will connect our understanding of where and why collisions occur along with real-world problem-solving ways we can better design streets, facilities, vehicles, and operations.
The center will also enable students to develop their skills and get involved in innovative research and problem-solving. It will also provide students with the opportunity to go to conferences and travel for research.
Director of Active Transportation Research, Bruce Appleyard, is an associate professor in the School of Public Affairs and author of Livable Streets 2.0. For years, he has led the charge for SPA to get this UTC funding and focus it on pedestrian and bicyclist safety.
"A mission of the UTC is to support student researchers and to get minority and underrepresented students involved at the university and pre-college level," Appleyard said. "It's a very applied, on-the-ground, in-the-streets research program with a focus on student academic success."
Appleyard worked for about 10 years to bring this UTC to SDSU and in 2016, he applied to the very same competition in hopes of winning. The team was unsuccessful then, but this time around the team brought in faculty from the University of New Mexico to lead the effort, alongside the University of California at Berkeley, University of Wisconsin at Milwaukee, and the University of Tennessee.
They won the $10 million grant based on their research ideas, their past research, proposals to study street safety and livability, and their reimagining of how to design streets for our most vulnerable users.
This award marks SDSU as a major player in one of the highest profile Federal Transportation Research Programs in the U.S. This UTC will work toward putting the university on the map for innovative research, not only in transportation, but in how to make our streets safer, more equitable, and more livable for our most vulnerable.
"It gives us the funding and the support to do the interesting, useful, and needed research for our most abundant and accessible public spaces, our streets, and for the most vulnerable users," Appleyard said. "We're also able to support our students…who are doing our research, doing their own research, and getting to know more about: transportation in general, pedestrian and bicycle safety, and the redesign of our streets."
The team will also look at policies and projects within the government. Appleyard is currently working with several state of California agencies to look at how they manage their active transportation, transit, and climate action investments and will use this to inform his research.
"I am most excited about collaborating with my colleagues and students across SDSU and CPBS consortium to creatively and rigorously tackle the greatest challenges in the way of making our streets safe, livable and enjoyable for our most vulnerable-our pedestrians and bicyclists," Appleyard said.
As driver fatalities decrease, pedestrian and bicyclist fatalities are increasing at an alarming pace, which informs the research Appleyard and his team plan to use and design complete streets. They will research equity in bicyclist and pedestrian safety and street use, street livability, and street reimagination and design.
If you are interested in learning more and how to support our students, go to this website.