Outstanding Student: Morgan Prickett, School of Journalism and Media Studies
Morgan Prickett has been recognized as the outstanding student for the School of Journalism and Media Studies.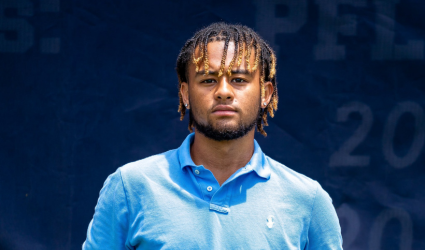 Throughout his years at SDSU, Morgan Prickett has been a crucial part of the JMS community.
Prickett joined the Daily Aztec his freshmen year and, during his third year, became the sports editor. During his junior year, he joined the National Association of Black Journalists as the social media manager before working his way up to become the president of the organization. Prickett also joined the PSFA College Council as the vice president of external relations in his final year.
Although it may seem like he has it all figured out, when he came to SDSU, he didn't know where he wanted to end up.
Prickett's biggest challenge to overcome as a student was finding a community that would also prepare him for life after college.
At the end of sophomore year, he was left feeling like something was missing as he was only really involved in the rugby team. During his junior year, he found many organizations he connected with and people who he enjoyed working with. From this period in his college career, Prickett has learned to embrace new challenges and find new communities and connections.
Prickett attributes all he's learned to the mentors, professors, and organizations he's been a member of while at SDSU.
As he moves on to the professional world after school, he plans on continuing to be involved in the sports industry throughout his career.
"Through journalism, I've found a passion for telling stories and informing the public about an aspect of my life that I've enjoyed and cherished for so long," Prickett said..
Not only will he continue to fuel his passion for sports, but Prickett also plans on dedicating himself to humanitarian efforts and taking the time to enjoy life.
"I also have a passion for nature and travel, so through all of this, I'd like to travel the world, learn, experience, and embrace all life has to offer," Prickett said.