Outstanding Student: Marie Virissimo School of Communication
Marie Virissimo has been selected as the Outstanding Graduate for the School of Communication for Health Communication.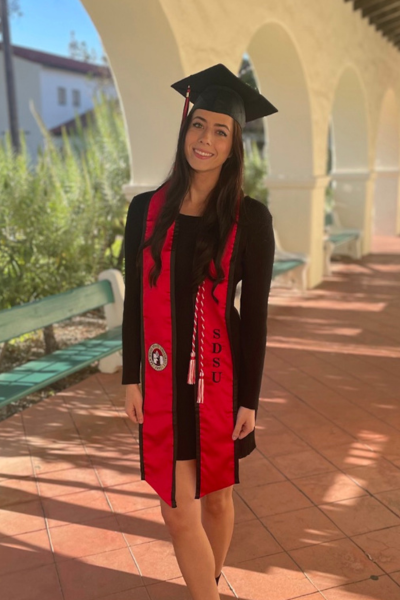 Marie Virissimo's compassionate, hard-working spirit made for a successful journey as a Health Communication major.
Virissimo's SDSU experience was supported by Dr. Record and Dr. Martinez. "Their dedication and passion regarding these subjects inspired me and my educational journey. Aside from their proficiency and organization of class material, these professors were most importantly, kind. I feel that they both genuinely cared about my studies and success post-graduation, which I will always remember and appreciate," shares Virissimo.
Her success came through perseverance and drive during trying times. Virissimo showed strength against adversity, and it paid off.
Virissimo has been working toward her degree and career simultaneously, "Working at the Behavioral Diabetes Institute (BDI) and the Barrio Logan College Institute while in college supported my professional goals by allowing me the opportunity to gain hands-on experience in the nonprofit sector. In doing so, I learned about the necessity and importance of making resources available to marginalized groups within our society," shares Virissimo.
Her career goal is "to make a difference." She hopes to work in the nonprofit sector and help support meaningful and accessible health care and communication in her community.