Mother-daughter duo attend SDSU to receive their degrees
Former Aztec Shops employee and breast cancer survivor Imelda Hernandez-Villa is working alongside her daughter Sydney Villa as they aim to earn their bachelor's degrees.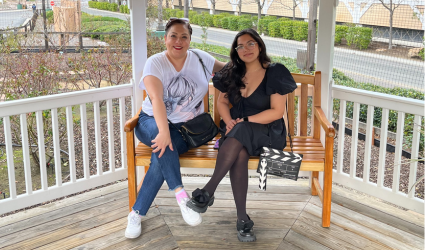 "I don't know what I want to do when I grow up," 47-year-old Imelda Hernandez-Villa said, but she's well on her way as she prepares to graduate from San Diego State University this May.
Imelda decided to attend SDSU with her daughter, Sydney Villa. After finishing last semester while battling breast cancer, she plans to graduate this May with a B.A. in English literature and a certificate in children's literature.
Imelda fell in love with SDSU back in the 90s when she was still in high school, but because of financial reasons, was unable to attend right after graduating from high school. Instead, she began working with Aztec Shops where she would stay for 24 years until she lost her job during the 2020 pandemic.
Imelda always knew she wanted to go back to school but waited until her daughter was in high school. In 2017, Imelda started attending night classes at Cuyamaca Community College after her shifts, then began working toward her SDSU degree in 202.
Her daughter Sydney is a third-year film production major in the School of Theatre, Television, and Film and will graduate in the Fall of 2023.
"I grew up on the campus a little bit just because I came to work with my mom a lot, especially during the summer times," Sydney said. "When I was little, I always used to tell her that I didn't want to come here for school but I grew to love the campus more as I got older."
Sydney graduated from high school in 2020 and chose to attend SDSU because of the film program. She says that staying home made more sense as the pandemic forced everyone to have classes online.
While they do go to SDSU, their paths rarely cross. Imelda prefers the quiet of the library and Sydney prefers to listen to "really loud music" while studying, according to her mom.
As they wrap up their joint undergraduate degrees, Sydney and Imelda are both looking forward to pursuing their master's degrees.
Sydney hopes to attend UCLA or NYU for their film programs, but her mom has other plans.
Going through cancer treatments while taking classes exhausted Imelda, so she plans on taking a year off, then continuing to follow her passion for learning and literature. She hopes to go back to school to earn her master's in editing and publishing.
Sydney wants to follow her passion for filmmaking and become a director one day. She has already created documentaries and short films and is making plans to get her own film into the SDSU film festival.
Sydney's film professor, Mary Posatko, heard about Sydney's unique story in class and encouraged her to share it.
"When I heard Sydney's story about her mom in class, I heard a really unique, touching, and powerful story about an amazing daughter, mom, and family. A story about the power of education, about how our own kids can be such a strong and positive influence, and a story about the unique and essential position of SDSU within our San Diego community," Posatko said.