JMS Alumna Jill Nash appointed by President Biden to Fulbright Foreign Scholarship Board
The Fulbright Program is the flagship international educational exchange program sponsored by the U.S. government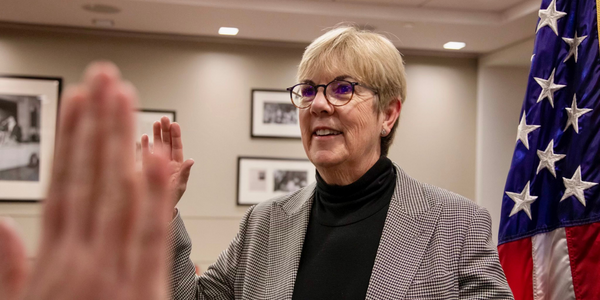 President Joe Biden announced key appointments to boards and commissions in January 2023, including naming San Diego State University School of Journalism and Media Studies Alumna Jill Nash to the Fulbright Foreign Scholarship Board (FFSB).

The board oversees the Fulbright Program, an international academic exchange sponsored by the U.S. Government in strengthening ties and mutual relationships between the United States and other countries since 1946.

Nash is honored by her selection and understands the importance of her role. "The true mission of the Fulbright Program is to promote a mutual understanding between different cultures and perspectives," said Nash. "There has never been a more important time for effective communicators to understand different points of view, and it's a privilege to be a part of it."

In her previous positions, Nash has been a critical component in helping organizations navigate cultural change, crisis and advancement. Her well-versed background in communications and public affairs has more than prepared her to support the work of the Fulbright Program.

As an alumna, Nash built a foundation for her career through the Journalism program at SDSU. She shares her pivotal advice for current students and new graduates entering the field.

"To be an effective communicator, you have to be curious. Focus your efforts on learning, being curious, and exposing yourself to different ways of thinking," said Nash. "If you're comfortable with jumping into different situations and working across different cultures, you'll be prepared for whatever comes your way."

About the Fulbright Foreign Scholarship Board (FFSB)
Appointed by the President of the United States, the 12-member Fulbright Foreign Scholarship Board was established by Congress to supervise the global Fulbright Program as authorized by the Fulbright-Hays Act of 1961. Representing diverse facets of American society, Board members select students, scholars, teachers, and others from the United States and abroad to participate in Fulbright exchanges. In close relationship with the U.S. Department of State's Bureau of Educational and Cultural Affairs, U.S. embassies, bilateral Fulbright Commissions in host countries and the U.S. Department of Education's International and Foreign Language Office of Postsecondary Education, the Board prepares an annual report and promotes the Fulbright Program to audiences around the world. The Board also meets quarterly to establish policies for Fulbright selection and operating procedures.