Honoring Filipino History Month
The Legacy of Filipino Families in the U.S. Navy and Navy ROTC Program
Jerrin-James Conception as a child (left) and his father James Concepcion, USN (Ret.) (right).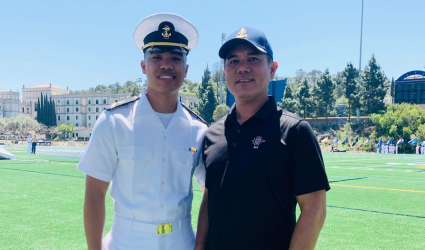 Jerrin-James Conception, today, as an adult (left) and his father James Concepcion, USN (Ret.) (right).
During World War II, a significant historical moment unfolded when many Filipinos living in San Diego and Hawaii were invited to join the U.S. Navy, with the promise of gaining U.S. citizenship. This pivotal event marked the beginning of a profound and lasting connection between the Filipino community and the U.S. Navy in the San Diego region, and an enduring tradition of multi-generational service for many Filipino families.
Fourth-year San Diego State University student Jerrin-James Concepcion was born in San Diego, spent part of his childhood in Washington and Bahrain. He is also a midshipman in the SDSU Naval Reserve Officer Training Corps (NROTC), on the path to commissioning as a naval officer.
Concepcion, has deep-rooted connections with the Navy and the Filipino communities. His father, James Concepcion, USN (Ret.), enlisted in the Philippines, served in the U.S. Navy for 23 years, eventually gaining U.S. citizenship and relocating to the United States.
"My dad knew a lot of people that he just joined with, small world a lot of the time, but some of them live kind of near where we're at so I sort of grew up surrounded by it," said Concepcion.
In Concepcion's case, there was no pressure to follow in his father's footsteps, but the exposure to his father's service inspired him to pursue a career in the Navy. Since then, he has been met with unconditional support from his family, underscoring their unwavering commitment to the Navy and its enduring tradition.
"It just kind of felt like the natural path and choice. So it's just something I chose to do. And, of course, I was unconditionally supported, which certainly helps continue a little tradition that was started" said Concepcion.
The NROTC program at SDSU is a demanding commitment. Midshipmen must navigate a packed schedule, balancing their regular undergraduate coursework with additional naval science classes and physical training. Upon graduation, Concepcion is set to embark on the next phase of his journey to become a Navy pilot as he enters naval aviation training.
Familial ties to the Navy often span many generations, and Concepcion's story is just one of a rich legacy of Filipino families whose members have chosen the Navy as a multi-generational career path.
Filipino History Month is an annual celebration of the rich history of the people of the Philippines. It is also a reminder of those who have served the U.S. through military service, contributing to the strength and diversity in the ranks of the U.S. Navy.