Inspiring Generosity for Aspiring Journalists
Meet the man behind the John L. Baldwin and Shawn A. Baldwin Scholarship for Journalism Excellence at SDSU.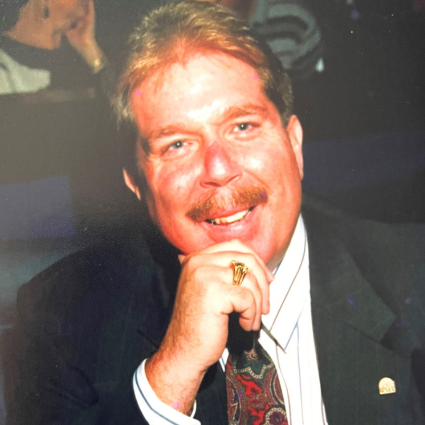 As a native San Diegan John L. Baldwin's journalistic odyssey began with a humble paper route, delivering the Evening Tribune. It was a journey that would take him from high school sports editor to Mesa College's daily newspaper editorship. But it was at San Diego State University where his journalistic mettle was truly forged.
At SDSU, he joined the ranks of the Daily Aztec, cutting his teeth as a news-oriented staff writer and even donning the hat of a summer editor. But it wasn't all ink and deadlines. Baldwin's academic pursuits led him to weave communications and marketing classes into his career tapestry.
Baldwin's path took an unexpected twist when he ventured into real estate. A part-time job turned full-time marketing gig saw him temporarily withdraw from SDSU without a diploma, but with a wealth of real-world experience. He would later found Baldwin Pacific Group, a real estate firm specializing in affordable housing that has left an indelible mark on San Diego County's real estate landscape.
"I'm forever indebted to San Diego State," says Baldwin, who has now launched the John L. Baldwin and Shawn A. Baldwin Scholarship for Journalism Excellence. The scholarship, generously endowed with a beginning balance of $50,000, provides needed support for students in the School of Journalism and Media Studies.
After nearly 50 years of presiding over Baldwin Pacific Group, John L. has turned over the leadership reins to his son, Shawn A. Baldwin, 29, who now serves as president/CEO.
Reflecting on his journey, Baldwin recalls two professors who left an enduring imprint. Dr. James Julian, a stickler for spelling, taught him that precision in language is paramount. Dr. Julian's "F" for a misspelled word prompted Baldwin to always carry a pocket dictionary, a habit he maintains to this day.
Then there was Dr. Eric Odendahl who instilled the art of storytelling with the "five W's" - Who, What, When, Where, and at times, Why. This simple yet powerful framework has been Baldwin's compass in both writing and communication, making his words not only heard but actually understood.
Fast forward to today, John is the founder of Baldwin Pacific Group, a prominent affordable housing firm in San Diego. He gives credit to his journalism training as the key to his initial success, opening doors to a job that marked the beginning of his real estate career.

"John L. Baldwin and Shawn A. Baldwin's gift to establish an endowed scholarship means that students every year moving forward will get critical financial support to help them through college," said Temple Northup, the director of the School of Journalism and Media Studies.
For more information about supporting students in the College of Professional Studies and Fine Arts, visit https://psfa.sdsu.edu.