Outstanding Graduate: Gabriela Romero from the School of Journalism and Media Studies


Coming to SDSU as a first-generation college student and the first person in her family interested in public relations, Gabriela Romero's collegiate journey and career path felt daunting. That feeling changed the moment she enrolled in her first public relations course—she felt at home. Surrounded by inspirational faculty and peers, Romero found community and opportunity around every corner. She was a member of PRSSA SDSU for three and a half years, during which she served as both vice president and director of finance; and she also served as director of communications for the Running Club at SDSU for two and a half years.
As she progressed in the JMS program, so did her involvement. She worked as a PSFA marketing and communications assistant and was chosen to lead her capstone campaign as an account lead.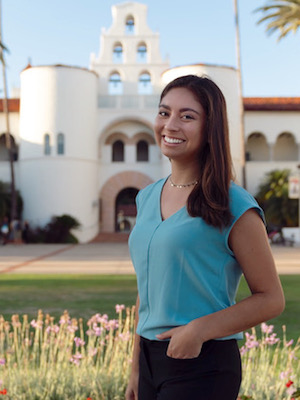 Their capstone campaign brought together a team of six seniors at SDSU, a Hispanic-serving institution, and seven students from an HBCU more than 3,000 miles away to host a national webinar in partnership with PRSSA.
"When I served as the account lead for my public relations capstone campaign, it planted the seeds to help me realize my career passions," says Romero. "This opportunity allowed me to get my feet wet in the real world of public relations outside of SDSU, and it taught me the importance of ensuring that the industry is diverse and inclusive. To do so, we each need to use our voice for good."
Romero aspires to work for an issue-driven company or agency that seeks to make positive change. She landed an internship with Twitter Communications, a dream come true for Romero. There she pitched Twitter's Q2 2021 Inclusion and Diversity Report, landing coverage in national publications like Adweek, Axios and Protocol.
"This opportunity made everything click for me," says Romero. "I realized my industry passion lies in working for an ethical company that prioritizes DEI and helps serve the public conversation."