Outstanding Graduate: Alexandra Spencer, School of Public Affairs and College of PSFA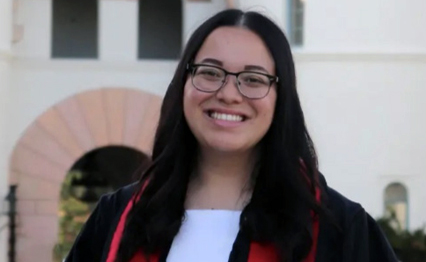 Alexandra Spencer has been chosen as not only the outstanding student of the School of Public Affairs but was also selected as the outstanding student for 2022 for the entire College of Professional Studies and Fine Arts. She will be speaking on behalf of the students of the college at the May commencement ceremonies.
A criminal Justice and Sociology double major, Alexandra Spencer found her passion for community advocacy and prison reform during her time at SDSU.
"After learning how many groups are further disadvantaged by the criminal justice system, I knew I wanted to make a change," says Spencer.
Spencer has been working with programs that benefit incarcerated people and their families since her freshman year. Throughout her time at SDSU, Spencer has volunteered with Reading Legacies, and interned with Project Rebound and Second Chance.
Since the summer of 2021, Spencer has worked as a research assistant under Dr. Kimberly Kras; their research examines the effectiveness of probation and parole policies and the impacts of organizational culture on staff members.
Spencer cites the imprisoned people she advocates for as her leading motivation.
"Their stories and work ethic inspire me to create more programming within and outside of prisons so that the criminal justice system does not continue to funnel individuals from disadvantaged communities into prisons, maintaining a cycle of incarceration."
Spencer has served as an executive board member of both Alpha Phi Omega, the national service fraternity, and Tau Beta Sigma, the Music Service Sorority; and was a member of Phi Eta Sigma Freshman Honors Society.
Stepping outside of her major, she was a section leader and played baritone with the Marching Aztecs.
After graduation, Alex will be working to support low income and justice impacted individuals with the Legal Aid Society of San Diego.
"SDSU provided me with a community and educational experiences to find my path and explore my passions," shares Spencer. For incoming SDSU students, she advises, "I hope that you take opportunities to grow, find your passions, and have fun in order to make SDSU a special place for you as well.