Arzu Ozkal named new Chair of Arts Alive SDSU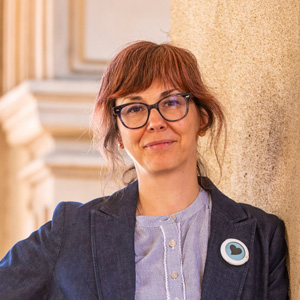 Dean Peggy Shannon of the SDSU College of Professional Studies and Fine Arts has announced that School of Art and Design Associate Professor Arzu Ozkal will succeed Professor Eric Smigel as the Director of Arts Alive SDSU.
Arts Alive SDSU is an innovative SDSU initiative redefining creativity by providing opportunities for students, faculty, and staff to engage in the arts as an integral part of a comprehensive education. Arts Alive SDSU promotes creative research, interdisciplinary collaboration, professional innovation, and personal enrichment on campus and in the community.
Eric Smigel has served as Chair of Arts Alive SDSU from 2018 to 2022, during which time he designed, instituted, and facilitated interdisciplinary programs that helped raise the profile of the arts on campus as an impactful mode of creative research.
Under Smigel's leadership, Arts Alive SDSU launched the Discovery Series, an annual selection of university-produced art exhibits, performances, and film screenings that connect faculty and student artists with colleagues in the humanities and sciences. He also enhanced the Interdisciplinary Collaborative Teaching Program by establishing a faculty workshop that systematically explores strategies for achieving transdisciplinary learning objectives.
Over the last two years, Arts Alive SDSU has received support from the Division of Student Affairs and Campus Diversity to deliver the Artist in Residence Program, which enlists professional artists who focus on underrepresented communities to lead discussions about arts activism and to create original art for our campuses embodying themes of social justice. Prof. Smigel will return to his faculty appointment with the School of Music and Dance, where he will re-engage his professional work as a historical musicologist.
Associate Professor Arzu Ozkal is an internationally known interdisciplinary artist, designer, and researcher whose work focuses on design's role in looking for forms of creative and critical outcomes through participation and collaboration. She joined the School of Art and Design faculty in 2011, and she has been working with Arts Alive SDSU since its inception.
One of those projects was the Phage Infused Evening of Music, Poetry, and Art exhibition, which was a part of the Phage Symposium, organized by the Biology Department to celebrate the 100th year anniversary of Phage discovery. In that effort, Ozkal organized the art exhibition for the SDSU University Art Gallery that brought together students from Biosciences, Music, Creative Writing, and School of Art and Design to collaboratively create art, thinking of Phage as a cultural, biological, and evolutionary artifact.
Following the exhibition, together with biology professors Anca Segall and Forest Rohwer, Ozkal co-created an accepted course for Arts Alive SDSU's Interdisciplinary Collaborative Teaching Program. This course between Biology and Graphic Design focused on raising public awareness and increasing public understanding of science. Ozkal has also collaborated with numerous other entities on campus, including the Weber Honors College and the ZIP Idea Lab, always with an eye toward encouraging student success in interdisciplinary endeavors.
Beyond SDSU, Ozkal has exhibited and lectured nationally and internationally, and her work is in collections across the country, including Thomas J. Watson Library, The Met; School of the Art Institute of Chicago, SAIC, Joan Flasch Artist Book Collection; University of Pennsylvania, UPenn, Fisher Fine Arts Library. She is on the board of several nonprofits in San Diego, CA, including A Reason to Survive (ARTS), a National City-based non-profit art center dedicated to providing high-quality arts programming to South Bay youth, and Art Produce, a community art and performance space in North Park, San Diego CA. She is also the education chair of the San Diego chapter of AIGA, the professional organization for design.
Arts Alive SDSU promotes creative research, interdisciplinary collaboration, professional innovation, and personal enrichment on campus and in the community.
For more information about Arts Alive SDSU, visit the website at artsalive.sdsu.edu.