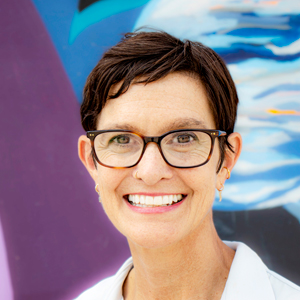 Annie Buckley
Associate Dean of Faculty Advancement
College of Professional Studies and Fine Arts
Administration - Dean's Office
San Diego
Bio
Annie Buckley, Associate Dean for Faculty Advancement, is an artist, writer, and educator with an emphasis on art and social justice. She was previously on the faculties of UCLA and CSU San Bernardino and has won numerous awards for teaching, service, and research, including Outstanding Professor, the highest faculty award in the University, at CSUSB in 2019. At SDSU, Buckley is also the founding director of the Institute for the Arts, Humanities, and Social Justice at SDSU and the PI on the SDSU's Second Chance Pell Project.
Her interdisciplinary practice includes participatory art and collage included in gallery exhibitions and public forums, over 200 reviews and essays on contemporary art published in leading outlets including Artforum, Art in America, and The Huffington Post, curation of, and community-engaged art. Buckley's primary research is as founder and director of Prison Arts Collective, a statewide initiative dedicated to expanding access to the arts to those who are incarcerated. She has been awarded prestigious grants from the California Arts Council and the National Endowment for the Arts for this community-engaged project and it has been featured in national and international press including The Guardian and The Los Angeles Times. Her column about teaching art in prisons, "Art Inside," is published by Los Angeles Review of Books, where she is a contributing editor.
Buckley has a BA with honors from UC Berkeley and an MFA in New Genres from Otis College of Art and Design and completed the Women's Executive Leadership training in the Haas School of Business at U.C. Berkeley.
Links